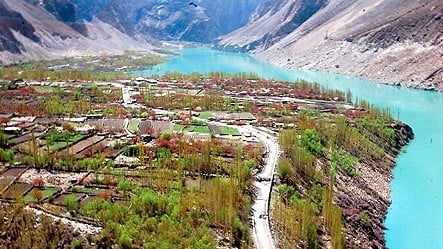 ---
Experts finally began widening the Attabad lake spillway on Tuesday, after days of protests by villagers calling for action on the issue.

The work began as five more houses were submerged by the lake in an upstream village, officials said. At least two large boulders blocking the flow of water through the spillway were blasted on Tuesday, said a government official. However, he said that removing the boulders from the spillway had not made much difference to the outflow.  "It [the outflow] rose to about 9,500 cusecs after the blast removed the boulders," the official said.

Another official said that the lake's water level was rising because glaciers upstream were melting more quickly than before. The team of experts sent to Hunza to widen the spillway had arrived two days ago.

"Dynamite was used in the targeted blasting, which kept the damage level under control," an official said.

Reports from Hunza said a dust cloud was hovering in the sky over Attabad and adjacent villages for quite a while after the blasts, meaning that the explosions had triggered landslides at Attabad, the village struck by a massive landslide early this year. At least 20 people had been killed in the landslide that also blocked the Hunza River early this year, creating a lake that has submerged four villages so far. "Five more houses were submerged in Gulmit on Tuesday, a tourist resort where nearly 60 houses have already been inundated," a local said. Meanwhile, officials in Hunza told The Express Tribune that four ambassadors from the European Union were due to arrive in Hunza on Wednesday on an official visit.

Published in the Express Tribune, June 23rd, 2010.
COMMENTS (1)
Comments are moderated and generally will be posted if they are on-topic and not abusive.
For more information, please see our Comments FAQ