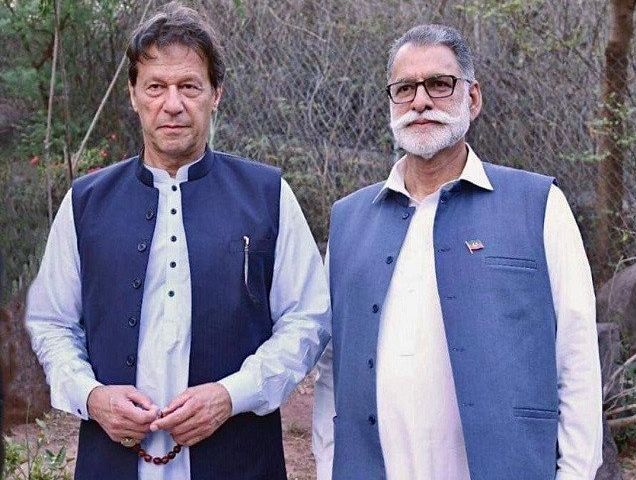 ---
ISLAMABAD:
Pakistan Tehreek-e-Insaf (PTI) candidate Abdul Qayyum Niazi was elected the prime minister of Azad Jammu and Kashmir (AJK) on Wednesday.
Niazi, 61, elected from LA-18 Abbaspur, has become the 13th premier of AJK, after securing 33 votes for the slot of Leader of the House in Azad Jammu and Kashmir Legislative Assembly.
Joint candidate of the opposition, Chaudhry Latif Akbar, secured 15 votes.
Niazi succeeds Pakistan Muslim Nawaz's Raja Farooq Haider, whose tenure in the AJK PM's office ended on July 30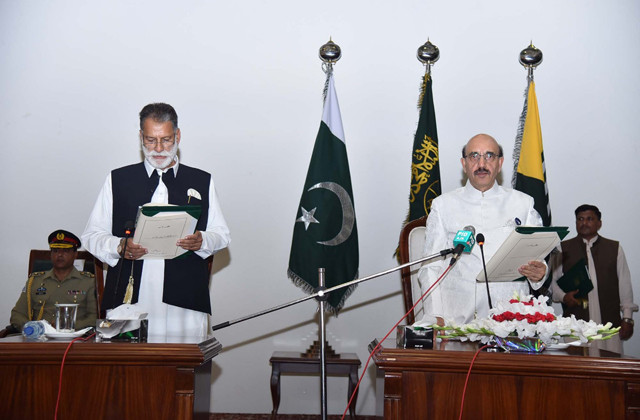 He was administered the oath of his office by AJK President Sardar Masood Khan.
Earlier in the day, Prime Minister Imran Khan had nominated Niazi as the PTI's candidate for the slot of AJK prime minister.
The news of Niazi's nomination was revealed by Federal Minister for Information and Broadcasting Fawad Chaudhry on his official Twitter handle.
طویل مشاورت اور تجاویز کے جائزے کے بعد وزیر اعظم پاکستان و چیرمین تحریک انصاف عمران خان نے نومنتخب ایم ایل ائے جناب عبدالقیوم نیازی کو وزیر اعظم آزاد کشمیر کے عہدے کیلئے نامزد کیا ہے وہ ایک متحرک اور حقیقی سیاسی کارکن ہیں جن کا دل کارکنوں کے ساتھ دھڑکتا ہے۔

— Ch Fawad Hussain (@fawadchaudhry) August 4, 2021
"After a long consultation and review of suggestions, the Prime Minister of Pakistan and Chairman PTI Imran Khan has nominated the newly elected MLA Mr Abdul Qayyum Niazi for the post of Prime Minister of Azad Kashmir," he wrote.
The minister also termed Abdul Qayyum as "a dynamic and genuine political activist, dedicated to his workers".
Read PPP, PML-N agree to field joint candidate for AJK PM slot
PM Imran interviewed a total of five candidates for the post of AJK premier, including Sardar Tanveer Ilyas, Barrister Sultan Mahmood, Khawaja Farooq, Azhar Sadiq and Abdul Qayyum Niazi.
The premier put various questions to them relating to their future strategy and sought their views on environment, tourism, economy, national and international affairs, border issues and future strategy.
Niazi was not in the run for the coveted post, and was only included at the eleventh hour.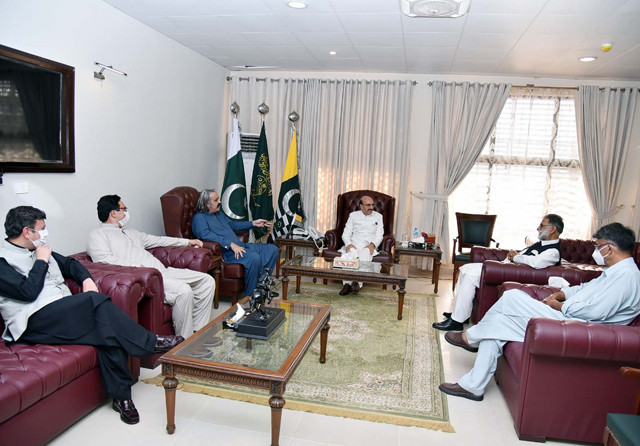 His surname — Niazi — confuses many who consider him hailing from the tribe of PM Imran. He, however, is from the Mughal community, which is scattered across the AJK.
A day earlier, PTI candidate Anwarul Haq and Riaz Gujjar took oath for the duties of speaker and deputy speaker, respectively, in the AJK Legislative Assembly.
Speaker Shah Ghulam Qadir administered the oath along with other elected members. Among those who were sworn-in were six women.
Sardar Atiq Ahmad Khan of the Muslim Conference and Javed Iqbal Badhanivi of the Pakistan Peoples Party could not be administered oath.
Political career
Born in 1959, Niazi is a veteran politician who started his political journey as a district councillor.
Hailing from Darra Sher Khan village, he was twice elected as a district councillor between 1980 and 1990.
He started his mainstream political journey from the platform of All Jammu and Kashmir Muslim Conference (AJKMC) in 2006 elections.
He managed to win his first election, and was appointed as food minister by the then AJK Prime Minister Sardar Atiq Ahmad Khan.
He also served as minister for prisons during the same tenure.
Niazi contested the next two elections representing AJKMC — in 2011 and 2016 — but lost.
In October 2017, he joined the PTI, following its rise in the valley.
He is also serving as the joint secretary of the PTI's AJK chapter.
AJK polls
According to the official results of the July 25 polls, the PTI secured 26 general seats of the AJK Legislative Assembly, followed by 11 by the PPP, six by PML-N and one each by AJKMC and Jammu Kashmir Peoples Party.
Three more PTI candidates were elected unopposed on Sunday against five seats reserved for women, in addition to one each from the PPP and the PML-N.
On Monday, the ruling party had won another three reserved seats, raising its strength to 32 in the 53-member house.
WITH INPUT FROM ANADOLU AGENCY
COMMENTS
Comments are moderated and generally will be posted if they are on-topic and not abusive.
For more information, please see our Comments FAQ