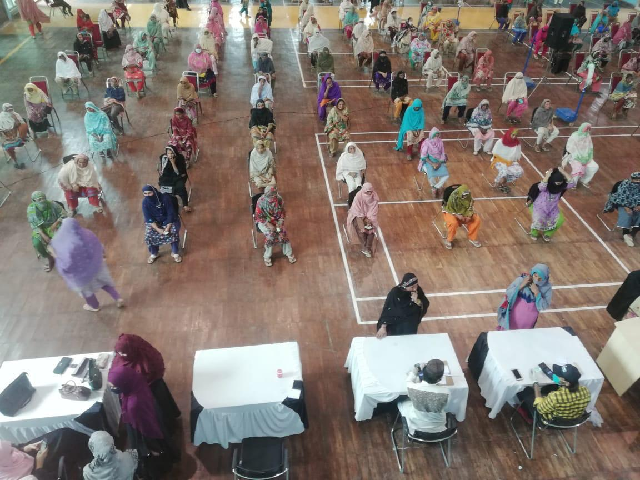 ---
ISLAMABAD:
The Public Accounts Committee (PAC) on Monday sought details of foreign aid received by the government to deal with the Covid-19 pandemic.
The committee, headed by MNA Rana Tanveer Hussain, was informed that out of 49 million coronavirus vaccines received so far, 29 million doses have been purchased by the government for $350 million.
During the session, Federal Finance Secretary Yousuf Khan said that the government had announced a relief package of Rs1,240 billion to deal with impacts of coronavirus of which Rs875 billion were disbursed as cash and Rs365 billion were spent on other relief programmes.
Tanveer said that the government failed to purchase Covid-19 vaccine on time despite receiving aid from the International Monetary Fund (IMF) and World Bank (WB) and citizens were only relying on donated jabs.
Addressing the finance secretary, the PAC chairman said the government claimed to have distributed coronavirus relief funds among different ministries.
Also read: Pakistan received $3.1b Covid assistance
He inquired whether the money was spent under any financial discipline. To this, officials from the finance ministry told the committee that Rs25 billion was given to the National Disaster and Management Authority (NDMA), while Rs50 billion was given to three other institutions including the Ministry of Health.
PPP Senator Sherry Rehman, who was also present in the meeting, said that health workers across the country had been complaining that they did not receive any allowance.
The PAC chief also raised objections over the distribution of funds pointing out that subsidy was even provided to those departments that had no role in dealing with the impacts of coronavirus pandemic.
Utility stores were also given financial support while tax refunds were also paid from the pandemic funds, he added.
Pakistan has so far received a total of $3.1 billion foreign economic assistance out of the total $3.7 billion committed by the international creditors and different countries for mitigating the socio-economic and health impacts of the pandemic.
"Pakistan has got a total of $3.1 billion budgetary support, project financing and grants-in-aid from different international organisations and countries since the outbreak of Covid-19 in the country," Minister for Economic Affairs Omar Ayub had told the Senate in a written reply in May.
COMMENTS
Comments are moderated and generally will be posted if they are on-topic and not abusive.
For more information, please see our Comments FAQ