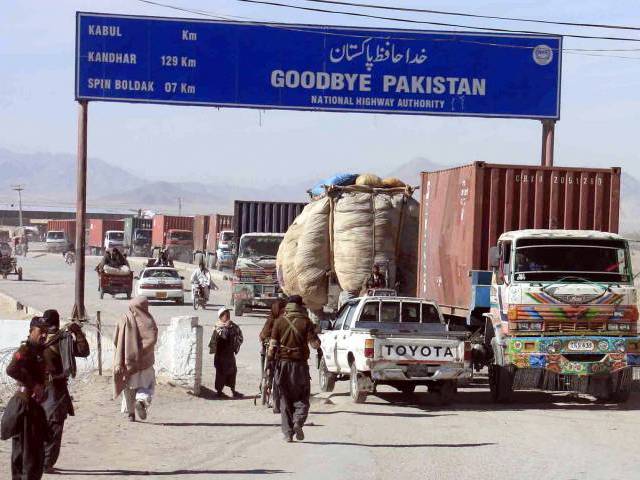 ---
QUETTA:
Pakistan on Monday reopened the Chaman border crossing, customs officials said, allowing over 100 trucks carrying goods to cross into Afghanistan.

The Chaman-Spin Boldak crossing, a key port for landlocked Afghanistan, had been closed by Pakistan for commercial traffic since fierce fighting for control of the crossing erupted between Taliban insurgents and Afghan security forces earlier this month.
Chaman Deputy Commissioner Juma Dad Mandokhel formally announced the resumption of commercial activities between both the countries.
"Pakistan has opened its border with Afghanistan at Chaman today and resumed Afghan Transit Trade which was suspended since the last one month," Arif Kakar, a senior official of the Chaman border district, told Reuters.
He said it would remain open six days a week. Two Pakistani customs officials, requesting anonymity, told Reuters that Spin Boldak and the border town of Wesh were still under Taliban control, and they did not know what arrangements were in place across the border or who was clearing the goods through customs.
Read more: Pakistan, Afghanistan extend transit trade deal
They said Pakistani officials were under pressure by traders to let trucks pass through as the goods they were carrying would otherwise perish.
Afghanistan's interior and finance ministries, and the Taliban spokesman, did not respond to requests for comment.
Chaman Chamber of Commerce President Haji Jalat Khan, while talking to the media, said that the chamber had made strenuous efforts to revive border trade by contacting various high-level officials.
Trucks loaded with goods parked at Pakistan Customs started moving towards Afghanistan along with the transit trade containers.
There are two key border crossings between Pakistan and Afghanistan — at Chaman in Balochistan and Torkham in Khyber Pakhtunkhwa — apart from several small trading points.
About 90% of 2,640km border with Afghanistan has been fenced by Pakistan and security posts have been established along with it for effective border management.
The government has also announced its changed policy on the influx of refugees due to fighting in Afghanistan and for the first time, Pakistan will not welcome any more refugees.
Last month, traders from Pakistan and Afghanistan urged Islamabad and Kabul to set aside the political differences and make joint efforts to boost bilateral and transit trade between the two neighbouring countries.
Read: Pakistan reopens Chaman border crossing
Addressing a meeting at the Sarhad Chamber of Commerce and Industry, the participants urged the government of Pakistan to devise a separate policy or mechanism for Afghan traders to pave the way to get them registered with the Securities and Exchange Commission of Pakistan and other authorities.
They also attributed the strict regulations, complicated laws and cumbersome procedures as main hurdles in bolstering Pak-Afghan mutual trade and transit trade.
Participants of the meeting discussed the problems and irritants being faced by traders on both sides of the border, which hampered bilateral trade between the two neighbouring countries.
Afghan Commercial Attache in Peshawar Fawad Arash said his country was keen to bolster bilateral and transit trade with Pakistan.
The diplomat said that promotion of Pak-Afghan trade and economic relations was essential for bringing economic prosperity and development in the whole region. Therefore, he added that Kabul was taking serious steps to resolve issues of traders' communities on both sides of the border.
With additional input from Reuters
COMMENTS
Comments are moderated and generally will be posted if they are on-topic and not abusive.
For more information, please see our Comments FAQ