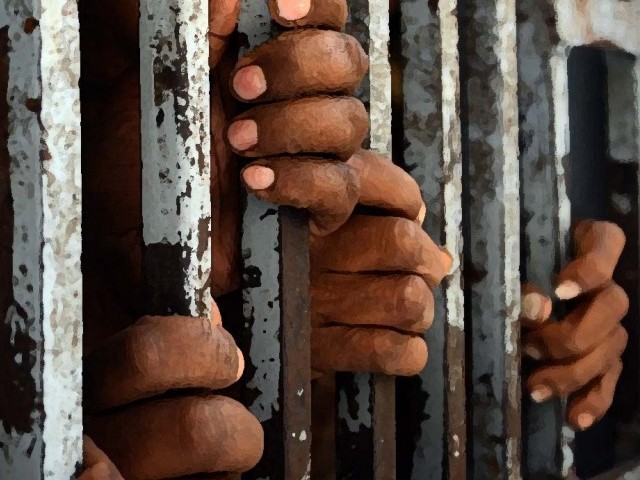 ---
PESHAWAR:
The number of inmates at provincial prisons has been on the rise with the passage of time as there are a total of 38 prisons in Khyber-Pakhtunkhwa (K-P) including district prions and sub-jails with a total capacity of 11362 prisoners which house 11936 inmates.
Just three years ago, their total number was more or less 8000 inmates, an indication that people especially the youth are turning to crimes with an alarmingly rapid pace in the province.
According to a report of the Home and Tribal Affairs Department, 75 per cent jail inmates are under trial prisoners as their number stand at 8984. Out of it 8501 are male and 132 are female while 350 are juvenile offenders with age below 18 years.
There are a total of 2,589 convicted prisoners in which 2,544 are male and 30 are women in addition to the 15 convicted juvenile offenders.
By the same token, there are 30 condemned prisoners who have been sentenced to death by the courts including one female. In Central Jail Peshawar, there are a total of 2,481 under trial prisoners, in Haripur there are 1,120 inmates including 300 under trail prisoners, in Central Jail Dera Ismail Khan there are 373 inmates in which 277 are under trial, in central Jail Bannu 931 inmates are accamodated including 462 under trial prisoners, Central Jail Mardan houses 2,275 including 1,454 under trial prisoners, District Jail Abbotabad 495 in which 470 are under trial , Mansehra 246, Kohat 562, Timergara 553, Buner 321, Lakki Marwat 224, Chitral 83, Charsadda 217,while in Dassu Kohistan prison there are 59 inmates who are under trial.
Program Coordinator, Group Development Pakistan and child rights activist Imran Takkar told The Express Tribune that so far eight child courts have been established by K-P government and judiciary with the support of Group Development Pakistan.
Read More: Man gets death, wife life term for sex crimes
He further added 80 to 90 percent underage inmates are under trial, despite the fact that the law gives the right of bail to juvenile in minor and major crimes.
He informed that in Juvenile Justice System Act 2018 there is no concept of police lock up and prison for underage or juvenile offenders but observation home and rehabilitation centres., "Unfortunately in K-P since 2018 there was no observation home notified nor any rehabilitation centre has been established and juveniles are languishing in prisons against the law with professional adult criminals.
Chairman Voice of Prisoners K-P, Advocate Noor Alam Khan while talking to The Express Tribune said that the concept of jail was to give punishment to the prisoners and compel them not to commit any such a crime in the future again but unfortunately our prisons had been turned into a breeding ground for crimes and every prisoner after completing his prison term is encouraged to commit more and more crimes.
He said that it was more than unfortunate that even minor underage children are also kept in these prisons with adult inmates despite the fact that they should be kept separately where they can be educated and reformed into a useful citizen and member of the society but it was not the case.
Published in The Express Tribune, July 18th, 2021.
COMMENTS
Comments are moderated and generally will be posted if they are on-topic and not abusive.
For more information, please see our Comments FAQ