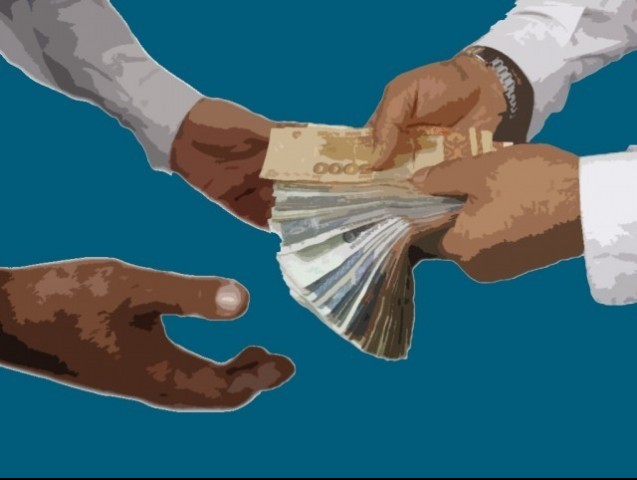 ---
KARACHI:
Contract-based data entry operators, working on the registration desk at the coronavirus vaccination centre of the Karachi Expo Centre, resorted to protests and stopped working as they were unpaid for three months.
The employees, carrying banners, chanted strong slogans in favour of their demands.
The protestors on Saturday said they were not being paid and more than 300 of them were performing registration duties. The demonstrators pointed out that salaries of IT staff were not paid.
"Our rights must be provided to us," one of them said. "We were assured that the salaries will be paid to us by July 8, but it is now the 17th."
The employees demanded that higher authorities take notice of the issue. The visitors who had come for vaccination had to wait for prolonged hours due to the protest, while many returned without getting their jabs.
There were also reports of altercations between the demonstrators and members of the general public. The police intervened and brought an end to the unruly exchange.
Later, the Expo Centre management made various staff members man desks to register people who had arrived for vaccination at the Expo Centre.
The Expo Vaccination Centre Shift-In-Charge Dr Faisal told the media that the employees would be paid soon. He said that they were not government employees, but staffers hired on a contract basis for the past three months.
He said that authorities will find a solution to the problem through dialogue. "Troubling the public through incitement of violence is not an appropriate attitude."
He assured that officials concerned would sit with their supervisor and DHO and find the solution to the problem.
"The employees have the right to protest. They can peacefully record their protest outside the vaccination centre."
The process of vaccination has been resumed at the venue. The biggest coronavirus vaccination centre of the province is set up at the Karachi Expo where people above 18 are being inoculated around the clock.
Published in The Express Tribune, July 18th, 2021.
COMMENTS
Comments are moderated and generally will be posted if they are on-topic and not abusive.
For more information, please see our Comments FAQ