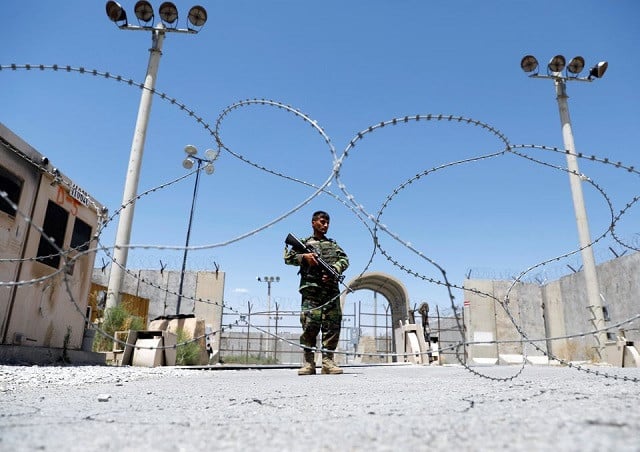 ---
ISLAMABAD:
As Afghanistan is fast descending into chaos, Pakistan, worried about the fallout of another civil war, is reaching out to key regional players in the hope of reaching a consensus to prevent another disaster in the war-torn country.
Although Pakistan has worked closely with the United States on the Afghan endgame, it is concerned that the US withdrawal is far from "responsible and orderly" – something that has raised the spectre of a new wave of uncertainty in the region.
Officials told The Express Tribune in the background briefing that Pakistan is now looking for alternative options to prevent a civil war in Afghanistan.
The background interactions with the relevant officials highlighted that Pakistan is not hopeful that the US would play a constructive role in bringing about peace and stability in Afghanistan.
Also read Lawmakers call for unity to face emanating Afghan challenges
This, according to the officials, is evident from the recent news conference by President Joe Biden, who clearly stated that it was up to the people of Afghanistan to decide their future.
As per Pakistan's assessment, the primary objective of the US now is to ensure its troop withdrawal without any problem. "Seeking peace or political solution is no more a priority of the US," said an official while requesting animosity.
This situation has put Pakistan in a difficult scenario as the civil war in Afghanistan will have grave implications for the country.
Pakistan is now pinning hopes on other regional players including Afghanistan's immediate neighbours such China, Russia, Iran and Central Asian States for a political settlement.
China, in Pakistan's view, can potentially replace the role of the US by offering incentives to all the parties concerned in Afghanistan in order to encourage them for a peace deal.
Russia and Iran, both of which now maintain contacts with the Afghan Taliban, can also play a major role in preventing unrest in Afghanistan. Pakistan feels that unlike the US it has convergence with Russia,
China and Iran on the issue of Afghanistan.
"Pakistan, Russia, China and Iran are going to suffer the most if there are further security problems in Afghanistan," the official pointed. "Therefore, it is natural that all these countries have an inherent interest in seeking a political settlement," he added.
Both China and Russia have been critical of the US withdrawal plan and publicly criticized the Biden administration for leaving Afghanistan in a mess. The potential security vacuum in Afghanistan could allow groups such as ISIS to pose direct threats to Russia, China, Pakistan and Iran.
As part of efforts to develop regional consensus, Prime Minister Imran Khan is expected to meet the foreign ministers of Russia, China and Iran on the sidelines of an upcoming regional connectivity summit to be hosted by Uzbekistan.
Also read WATCH: Taliban purportedly destroy two Afghan air force copters in 'tactical attack'
Official sources said the prime minister's interactions with the foreign ministers of these countries would focus on the Afghan endgame and how immediate neighbours of Afghanistan can work together to ensure peace and stability there.
Iran recently hosted talks between the representatives of the Taliban and Afghan government. Pakistan welcomed the initiative and said it supports all efforts leading to the political solution to the 20-year long war in Afghanistan.
Federal Minister for Information Fawad Chaudhry on Monday said Pakistan has a keen eye on the fast changing situation in Afghanistan. In a tweet, he said every effort is being made to move forward through a peaceful and all-encompassing system of government in Kabul.
"But even if it does not happen, its effects will not be allowed to come inside Pakistan and our Afghan policy is in Pakistan's interest," he added. The minister said Prime Minister Imran Khan has stated in unequivocal terms that Pakistan would be part of the peace efforts but not war.
"Pakistan's land is not being used against Afghanistan and hopefully Afghanistan's land will also not be used against Pakistan. The country's political and parliamentary leadership has consensus on the principle of non-interference," he added.
COMMENTS
Comments are moderated and generally will be posted if they are on-topic and not abusive.
For more information, please see our Comments FAQ