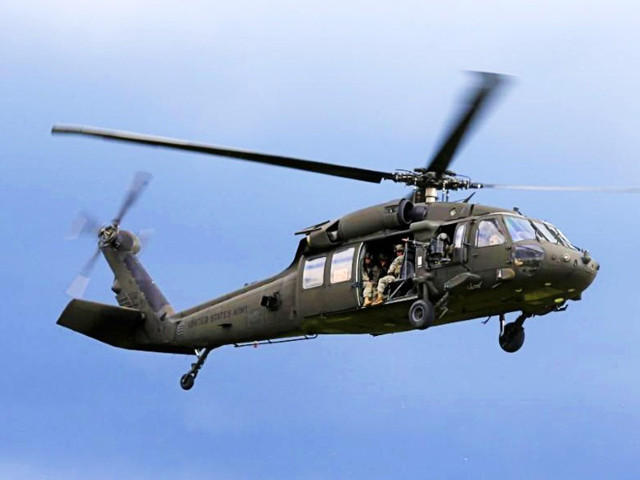 ---
Afghan Taliban on Monday claimed that they have destroyed two Sikorsky UH-60 Black Hawk helicopters of the Afghan Air Force, given to them by the United States, in a tactical attack on Kunduz Airport.
In a tweet, Taliban Spokesman Zabiullah Mujahid said Afghan forces also suffered casualties in this attack.
He also shared drone footage of the attack, in which a burning helicopter can be seen from a distance.
وړمه ورځ چې د کندز په هوایي ډګر کې د دښمن بلیک هاک هلیکوپترې په تکتیکي برید کې له منځه یوړل شوې او بیا دښمن انکار ترې وکړ، دلته یې لنډه ویډیو کتلای شئ. pic.twitter.com/zxz4gFfDjA

— Zabihullah (..ذبـــــیح الله م ) (@Zabehulah_M33) July 12, 2021
Meanwhile, the Afghan Taliban have also distanced themselves from what they called fake statements, videos, documents, threats and other letters which were not only being shared on social media but even being physically airdropped in some areas of the war-torn country.
In a statement, shared by spokesperson for the Taliban's political office Mohammad Naeem today, Zabihullah Mujahid, a spokesperson for the insurgent group said that all such propaganda by the enemy is aimed at controlling their fear and anxiety, to distract common thinking, and to cover up their compounding failures.
"After the stooge enemy was exposed and suffered humiliating defeats across the country where thousands of soldiers defected and embraced the open arms of the Islamic Emirate, and nearly two hundred districts were cleansed from their malicious presence, the enemy has now reached for propaganda, fabrications, and other futile tactics," he said.
Read more: India pulls officials from Afghanistan's Kandahar as Taliban widens control
He said that fake statements, documents, threats and other letters are recently being circulated on social media and even physically airdropped into some areas that impose restrictions on locals, threatens them, specifies gender laws, regulates lives, beards, movements and even contains baseless claims about marriage of daughters and other such issues.
Similarly, he said, fake videos and footage of multi-year-old video scenes showing activities of Da'ish militias are also passed on as recent actions committed by the Taliban.
"Spurious claims and propaganda is being conjured and handed over to media by the enemy about horrendous dealings by the Mujahideen of Islamic Emirate with locals in the recently liberated districts."
Mujahid also dismissed reports claiming the retaking of Afghan districts from the Taliban by security forces and inflicting hundreds of casualties.
"The Islamic Emirate rejects all above material and does not allow anyone to transgress against people anywhere, or to impose laws and regulations by themselves, or to circumscribe lives, and neither has there been any ill-treatment of women and men, nor is anyone allowed to do so," he added.
Also read: Taliban say they do not seek to seize power in Afghanistan militarily
Taliban spokesperson asked the media outlets, activists and general public not to fall victim to "enemy's propaganda", adding that all publications will be distributed through the official and other channels through which Taliban have communicated over the past twenty years.
"Any material published by any additional and novel channels should be ignored," he added.
The statement comes after the Afghan security forces on Thursday claimed that they have wrested back control of a western provincial capital stormed by the Taliban a day earlier.
It said some fighting was continuing on the fringes of Qala-e-Naw, capital of Badghis province, which borders the central Asian country of Turkmenistan.
Insurgents had on Wednesday seized key government buildings in the city including police headquarters as part of a dramatic Taliban advance unfolding as foreign forces withdraw from Afghanistan after a 20-year-long intervention.
On Friday, the group had said that it had taken control of 85% of Afghanistan's territory.
At a press conference in Moscow, Taliban negotiator Shahabuddin Delawar said that "85 per cent of Afghanistan's territory" is under the group's control, including some 250 of the country's 398 districts.
"All administrative bodies and hospitals continue their work on this territory. We ensured their functionality," he said, calling on international organisations "not to interrupt their missions."
Delawar said that the US withdrawal was a result of the Taliban bringing Afghanistan's population over to its side under the "principle of Islam".
"The United States was forced to leave our territory," he said.
COMMENTS
Comments are moderated and generally will be posted if they are on-topic and not abusive.
For more information, please see our Comments FAQ