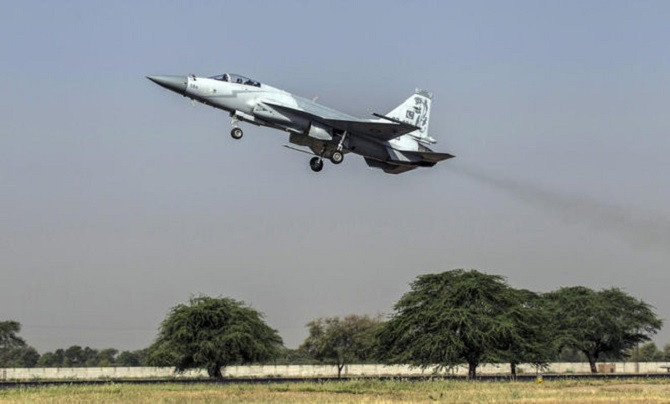 ---
Nigerian military and political leadership unanimously conveyed complete satisfaction on the performance of newly inducted JF-17 fighter aircraft from Pakistan, the Inter Services Public Relations (ISPR) said in a statement on Saturday.
The statement comes after Chairman Joint Chiefs of Staff Committee (CJCSC) General Nadeem Raza, who is on official visit to Nigeria, met with President Muhammadu Buhari.
General Nadeem Raza, Chairman Joint Chiefs of Staff Committee, who is on official visit to Nigeria, called on Muhammadu Buhari, President of Nigeria.
1/3 pic.twitter.com/njojshZWu9

— PTV News (@PTVNewsOfficial) July 3, 2021
The Nigerian leadership also mentioned that the JF-17 aircraft, with its unique fighting capabilities, would prove to be a potent platform in addressing the security requirements of the country, the ISPR added.
General Nadeem also had separate meetings with the country's Defence Minister Major General Bashir Salihi Magashi (retd) and Chief of Defence Staff and Chiefs of the Tri-Services General Leo Irabor.
Matters of bilateral military cooperation including security, counter-terrorism and prevailing regional environment were discussed during the meetings, the official communiqué read.
ISPR said that the Nigerian president conveyed his feelings of high esteem for Pakistan armed forces. He specially thanked Pakistan and its armed forces for their consistent support to Nigeria in its war against terrorism.
The CJCSC also reiterated that Pakistan is keen to expand its existing bilateral military to military cooperation with Nigeria.
Earlier upon arrival at Nigerian Defence Headquarters, Gen Nadeem was presented a guard of honour by a smartly turned out contingent of Nigerian armed forces.
In May, Pakistan had handed over three JF-17 Thunder fighter aircraft to Nigeria in a ceremony held at Nigerian Airforce (NAF) base Makudri.
Also read J-20 fighter jet: game changer to control sky
The aircraft were handed over by the Pakistan Aeronautical Complex Kamra to NAF.
Speaking on the occasion, Air Marshal Syed Noman Ali said, "Today's event is not only a historical landmark for Pakistan's JF-17 programme, but is also a reflection of the strong military cooperation and mutual trust between Nigeria and Pakistan."
He assured that PAF and Pakistan Aeronautical Complex will continue to provide support to the Nigerian airforce in helping it meet its requirements.
Military experts have long been comparing JF-17 Thunder with Rafale aircraft but Air Vice Marshal (retd) Shahzad Chaudhry, while sharing his views in Express News talk show earlier this year, said Rafale could be compared with F-16 but it had no one-to-one comparison with even JF-17.
He said that Rafale didn't bring any new technology to the region but the similar tech already existed in F-16 and SU-30.
Chaudhry said that JF-17's role was completely different than Rafale's and the latter's comparison will be made with F-16 as it had a similar role that of Rafale. "For the airspace that we have to defend, F-16s, JF-17s and other platforms emerge in an integrated shape as a formidable force and it was demonstrated in February 2019," he said.
"The Indian Air Force is the same; the Pakistani Air Force is the same but Pakistan Air Force better demonstrated its combined, synergetic and integrated capability," Chaudhry had said.
COMMENTS
Comments are moderated and generally will be posted if they are on-topic and not abusive.
For more information, please see our Comments FAQ