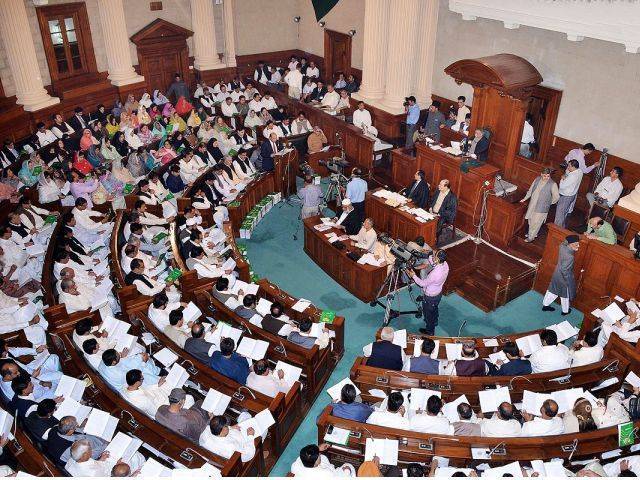 ---
LAHORE:
Punjab Assembly on Tuesday rejected two resolutions initiated by PML-N lawmakers despite the opposition's claim to have demonstrated majority support in the vote.
Deputy Speaker Sardar Dost Muhammad Mazari called for a vote over the resolutions presented by PML-N MPAs Muneebul Haq and Malik Sohaib Ahmad Bherth.
Normally, the voice of 'yes' or 'no' from the treasury benches is admitted as representing the majority in such instances.
However, when the deputy speaker held voting on the esolution moved by Muneebul Haq, the opposition members said yes but when the treasury members' turn came to say no, they remained silent with most of them busy in gossiping among themselves and using mobile phones.
The opposition members started thumping the desks, apparently believing that they had defeated the PTI in the voting and the resolution had been passed.
Read more: Dispute resolution act implemented
However, Deputy Speaker Mazari sought voting on the matter again. The House reverberated with 'no' this time and the resolution was not entertained.
Former speaker Rana Muhammad Iqbal Khan requested the deputy speaker to adopt the resolution, claiming that it had received majority support, but in vain.
Malik Sohaib Bherth's resolution was also taken up out of turn but it met the same fate. This time, only one treasury member voice said no loudly. The deputy speaker disposed of the resolution.
The opposition members protested but the deputy speaker did not pay heed to them. At the beginning of the day's proceedings, Speaker Chaudhry Pervez Elahi criticised the ministers who were absent despite their presence in the assembly being required. A PML-N lawmaker brought the matter to the notice of the speaker, saying that there was a lot of business on the agenda but none of the ministers concerned was present to respond to queries.
The speaker told the law minister to take up the matter.
The questions relating to higher education were pit off because the minister was not available.
Published in The Express Tribune, June 23rd, 2021.