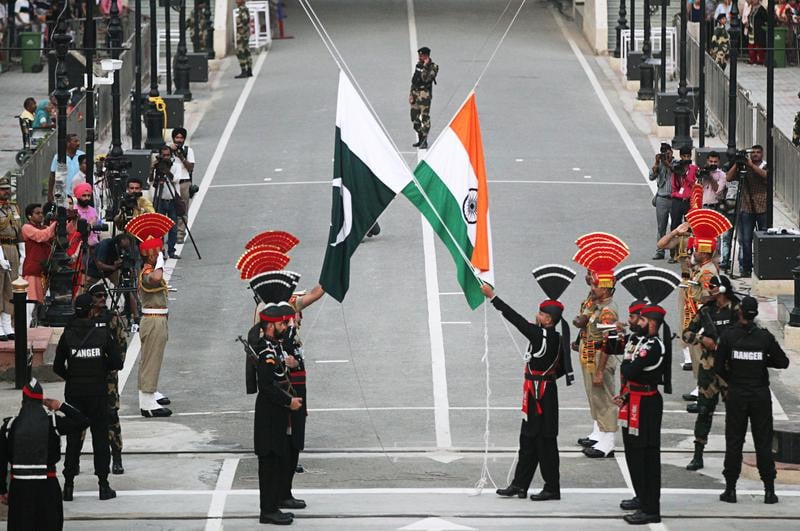 ---
LAHORE:
Pakistan recently allowed a limited number of spectators to come witness its traditional Beating Retreat ceremony at the Attari-Wagah border.
The joint parade, which would amass tens and thousands of watchers every day, had been on a prolonged hiatus ever since the two countries closed their borders to curb the pandemic's spread.
The military practice however continued to take place separately on either sides of the border, even during the coronavirus-induced lockdowns, but remain closed to the public.
Following Pakistan's decision to open public places amid drop in Covid-19 cases, masses have returned to zealously cheer the Wagah border guards. Yet, silence continues to haunts the Indian side of the border— no roaring crowd, no spectators, no zeal.
Occasionally, a few youths on the Indian side can be seen saluting their flag as its lowered down, the stadium at large still remains empty.
On the Pakistani side, the stadium although has the capacity to seat over 5,000 spectators at a time, crowds of only 150-200 people gather to witness the ceremony on weekends, while the number is much lower on week days.
Read The fading colours of Wagah
All guests are expected to adhere to strict coronavirus protocols: spectators undergo temperature checks at two points, their hands are sanatised and they are made to wear a face mask upon entrance.
Stadium seating is switched with special guest chairs placed on either side of the parade enclosure and a four-chair gap is to be maintained between every seated individual at all times.
Despite pandemic restrictions and limited spectators, the people however have welcomed the reopening of the ceremony with great enthusiasm. For Sheikh Mohammad Ramzan, who had come to witness the parade from Faisalabad, the ceremony holds great emotional significance.
"My ancestors had migrated to Pakistan via the same route in summer of 1947, so seeing the ceremony take place is a sentimental moment for me. I am glad people are now allowed to attend the parade, but I do miss the deafening cheers of hundreds and thousands on either sides of the border. I'd get an adrenaline rush every time the crowd roared," he told.
Saima Sheikh, another attendant at the parade appreciated the decision of the Punjab Rangers to ease into resuming the age-old ceremony.
"The cheers and slogans are not as loud as they used to be, but I hope we can soon go back to witnessing the same fervor that we did before Covid-19. The experience is incomplete without the Indian crowd and I pray both countries soon defeat the pandemic and resume normalcy," she told The Express Tribune.