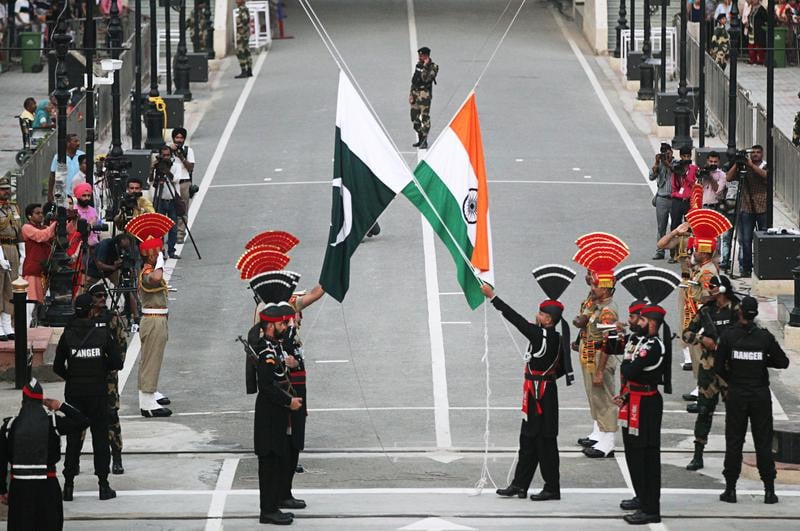 ---
The fading colours of Wagah
Pandemic, estranged border ties blanch a vibrant culture that once thrived by the frontier lines
---
LAHORE:
The last year-and-a-half of Covid-19 has been a tough row to hoe for many working along the Wagah frontier, and those in nearby villages.
With the closure of the India-Pakistan border, many businesses that once thrived on either sides of the borderline, have now been deserted. The sight of vacant motels, forlorn dhabbas and unfrequented streets, tells how the new-normal may have blanched a place once vibrant.
Many who contributed to the frontier economy, in absence of business, had to turn elsewhere in search of alternative sources of income. While there still are a few who trudge to the border every morning, half hoping that the light of a new dawn will resurrect their quelled businesses.
One such hopeful is 42-year old Muhammad Sultan, who hails from a village not too far from the Wagah border, where he had been working as a porter for the last decade-and-a-half.
But ever since the two neighboring countries shut their borders last year, there has been no work for the Sultan, pushing the middle-aged man to take up welding in his hometown.
"Those were good old days. We'd reach the border at nine in the morning, have tea with our friends and then begin work. Some of them were tattle-tales, so there'd always be some gossip and lots of laughter, which made work a lot more engaging," recalled Sultan.
Read Covid mutes ceremonial ritual at Wagah
"The sight of a passenger from either sides of the border would bring us so much joy; they were our sources of income after all. We'd help them clear their luggage through customs and immigration and pass goods from one end of the zero line to another. Although the official rate per turn has been fixed for pandits, but in Pakistan and India it all works on demand and barter. That way, we used to earn up to Rs1,500 to Rs2,000 per day," he added.
According to Muhammad Rafiq, another porter who once operated along the India-Pakistan corridor, travelers crossing Wagah also offered a great many opportunities for cultural exchange between the two countries.
"We would lift their bags and ask about conditions in their country, and funnily enough, people on both sides appear to be equally fed up of their governments. Some Indian travelers would also be quite surprised to see Pakistan markedly different from what they'd grown up seeing in Bollywood movies. All of that would result in some of the most wonderful conversations with travelers, during the brief walk from the border to their vehicles," shared Rafiq, who yearns for the borders to reopen.
A tea shop by the Wagah border, had for many years, been the favorite haunt of all travelers moving between the two countries.
On most days, it would be abuzz with guests discussing all things from cross-border relations, to politics and culture, over a cup of piping hot tea.
This would be the place estranged neighbours would bond over their shared love for chai; a place where travelers would bid adieu to their hosts, friends and drivers, before crossing over to the other side.
However, for the last year-and-a-half, there have been barely any guests at the once popular tea shop, while the chatter of travelers has been quelled by the haunting silence of a pandemic-plagued world.
"There was a time when we'd have so many guests that we'd utilize almost two mounds of milk just for tea, but now we barely eight to ten litres. All of us who work on the border dream of a day when the two countries will once again open their hearts and borders for each other. But even if we move past the pandemic, the Pakistan government has made it very clear that our trade relations cannot be resolved unless the special status of Kashmir is restored," the tea stall owner lamentingly told The Express Tribune.