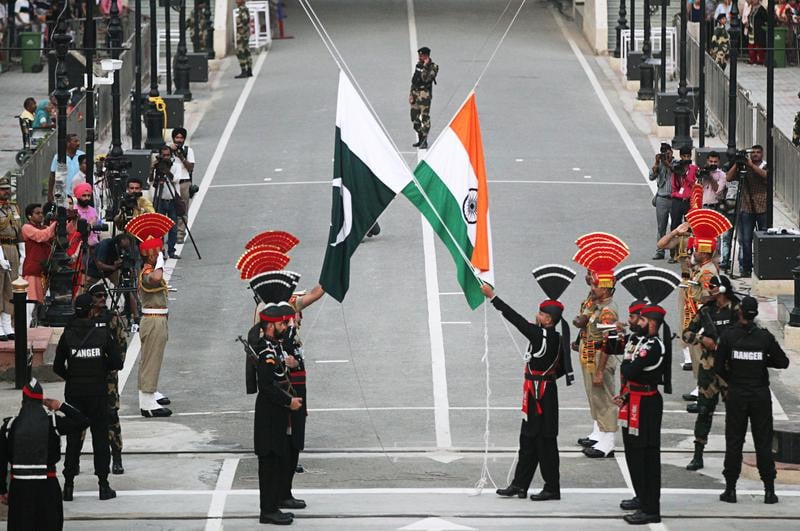 ---
LAHORE:
Before the sunset at the Wagah border — the only crossing point between India and Pakistan, young men of the Punjab Rangers and the Indian Border Security Forces lower their national flags with honour. But missing from this nightly ritual are the heart-warming, skycracking slogans that are no longer heard, nor are the soldiers of the two nations seen performing the high-kicking to the sounds of trumpets, which was religiously followed by a deep stare into each other's fiery eyes.
With the Covid-19 pandemic raging on both sides of the fence, those symbolic actions have been suspended and are now part of the nostalgically remembered past. The elaborately choreographed display of nationalism between the two nuclear neighbors at the Wagah border no longer takes place and no one can predict its resumption. While hope appears to be in short supply around the area -- where not too long-ago goose-stepping in front of the famous crossing-point, captivated the attention of people from all over the world, spectators, and even locals are eager to see the ceremonial ritual return to its former glory.
Muhammad Shakeel, a Wagah village resident is one of them. When asked about the pre-Covid event at the border, he immediately began to reminisce. "Earlier, spectators started gathering in the afternoon. There were long queues of local and foreign visitors. During the parade, slogans of 'Allahu Akbar' meaning God is great and 'Pakistan Zindabad' meaning long live Pakistan would instantly raise the energy levels," said Shakeel.
READ Over 100 Pakistani Hindus return through Wagah border
The audience, he recalled, was mesmerized by the performance of the heavily mustachioed soldiers from both sides. "Visitors performed bhangras as the troops marched to the sounds of trumpets. For Shakeel, the parade and the subsequent lowering of the national flags is not just an event, it is the identity of Wagah. "It puts us on the map," the resident said. Ayesha Ahmed, a Gulberg resident, who looks more reminiscent whenever she is asked about the parade said she and her family religiously witnessed the March 23 and August 14 parades, but not anymore.
"There were no dull moments and no empty spots. We used to leave the house several hours before the parades commenced. But now it's been more than 12 months since we watched this ceremony.