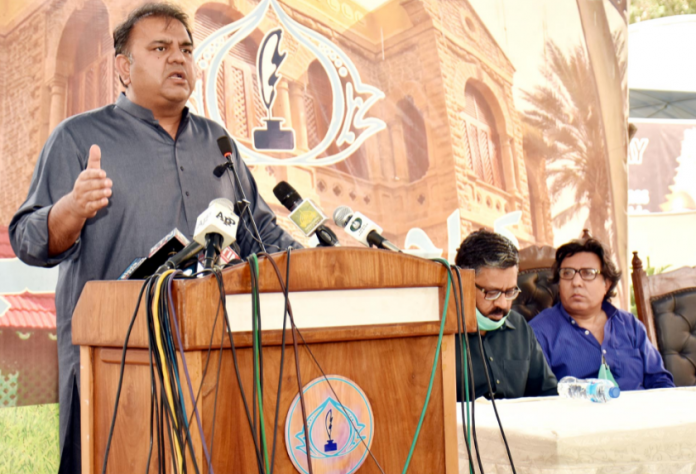 ---
KARACHI:
The federal information minister has once again launched an attack at the PPP-led Sindh government, calling for monitoring of the funds provided to the provincial government while alleging that these funds are laundered to foreign countries including the UAE and Canada.
"Billions of rupees were allocated for Badin and Larkana [districts of Sindh] but no one knows where that money went. The funds provided to Sindh are sent abroad either through boats or fake bank accounts," Fawad Chaudhry said on Sunday during his visit to the Karachi Press Club.
"The money that is given to Sindh ultimately lands in foreign bank accounts. That is why we want to monitor the funds provided to the Sindh government," he added.
Referring to a recent observation of the chief justice of Pakistan with regard to the Sindh government's performance, Fawad said Sindh Chief Minister Murad Ali Shah should resign after these remarks.
He once again urged Chief Justice Gulzar Ahmed to ask the Sindh government to implement Article 140 of the Constitution which calls for devolving power to the local governments (LGs).
"I want to tell the Sindh chief minister that implementing Article 140 is mandatory for the provincial government," he said, adding that the provincial governments of Khyber Pakhtunkhwa (K-P) and Punjab – where the ruling PTI is in power – are already implementing the article.
He said CM Murad Ali Shah claimed that Sindh is not getting its due share of water but "ran away" when asked to back up his claim with statistics.
"The landowners of Sindh steal water but level allegations against Punjab. If Punjab is stealing the water, then how come the pieces of lands owned by PPP leaders Asif Ali Zardari, Faryal Talpur and the CM are getting [uninterrupted] water?"
The minister claimed that the PTI will also form a government in Sindh province after the next general election. "Before the next election, Prime Minister Imran Khan will himself run his campaign in Sindh."
He said the prime minister wants to bring electoral reforms in order to ensure transparency. "Imran Khan is the person who [as a cricketer] introduced the idea of a neutral umpire," he added.
Talking with reference to the proposed all parties' conference (APC) of the opposition parties to discuss electoral reforms, Chaudhry said the opposition should come to the parliament to give its input on vote reforms. "No forum other than the parliament is suitable for presenting vote reforms proposals," he said.
COMMENTS
Comments are moderated and generally will be posted if they are on-topic and not abusive.
For more information, please see our Comments FAQ