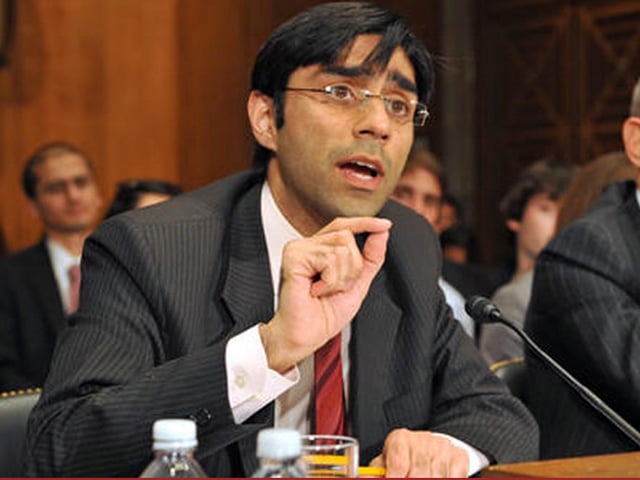 ---
ISLAMABAD:
The national security advisers of Pakistan and India will be in Dushanbe next week to attend a meeting of the Shanghai Cooperation Organization (SCO) but Islamabad says that no bilateral meeting is on the cards.
Dr Moeed Yusuf and Ajit Dovel will be joined by the national security advisers of other SCO member states to attend the 16th meeting of the secretaries of the Security Council of the SCO. The meeting is taking place on June 22 and 23. Moeed's has confirmed that he would lead the Pakistan delegation.
On the sidelines of the meeting, Moeed is expected to meet with his counterparts from the Russian Federation, Tajikistan, Uzbekistan, Kyrgyzstan, Kazakhstan and China to discuss matters of mutual interest. However, the NSA office said Moeed would not meet his Indian counterpart.
Officials said Pakistan would not engage with India until it reversed the August 5, 2019 actions in the Indian Illegally Occupied Jammu and Kashmir (IIOJK).
Read more: Moeed Yusuf's civilian coup on national security
The India media on Saturday reported that Prime Minister Narendra Modi convened an all parties meeting of Kashmiri leaders on June 24 to discuss the possible restoration of statehood of the disputed Jammu and Kashmir region.
Informal invitations have been sent to several political parties of IIOJK. However, the Indian media reported that it was not clear about the real objective of the conference.
Pakistan this week wrote a letter to the UN Security Council president, expressing concerns over reports that India might be contemplating further divisions, bifurcation and demographic changes in the disputed territory.
Given Islamabad's reaction, it appears that the Modi government may be bringing more changes to the disputed territory, something that would certainly ignite fresh tensions between Pakistan and India.
Also read: No talks with India until Aug 2019 steps undone: PM Imran
Meanwhile, Afghan National Security Adviser Hamdullah Mohib is also expected to attend the SCO conference. Official sources made it clear that given Pakistan's decision, Moeed will also not engage with the Afghan NSA on the sidelines of the SCO meeting.
Islamabad has severed all official links with the Afghan NSA after he repeatedly accused Pakistan of interfering in the internal affairs of his country. Pakistan has not only rebutted his diatribe but said he was deliberately trying to nullify the peace process.
Islamabad has already conveyed to Kabul that such blame game would not serve the purpose. It also reminded the Afghan government to use appropriate bilateral channels for any concerns.
COMMENTS
Comments are moderated and generally will be posted if they are on-topic and not abusive.
For more information, please see our Comments FAQ