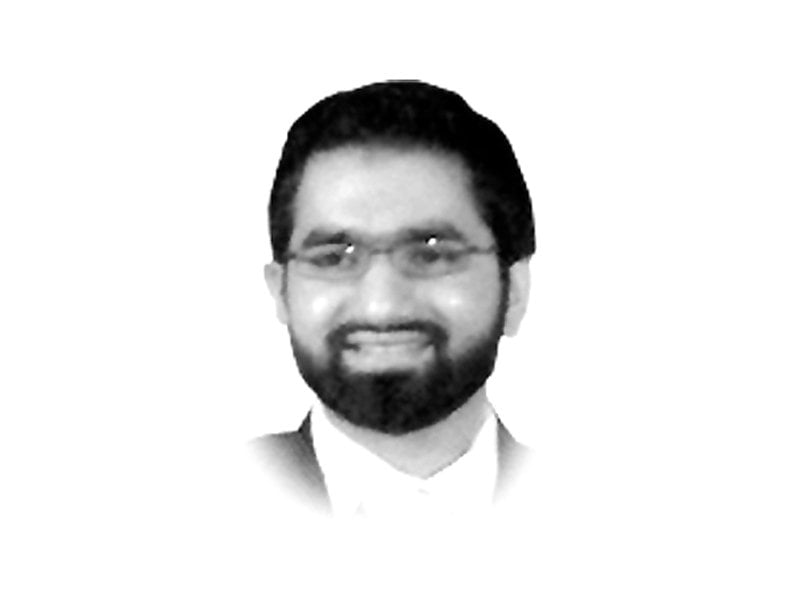 ---
A strange and seismic shift is underway in Pakistan's national security apparatus and it's not happening under the cover of darkness. The audacity of a think tank guy, an academic, an intellectual versus a retired military general re-defining Pakistan's national security paradigm for the next 50 years, to include human, food and climate security is a coup. As a cherry on top, Moeed Yusuf, as National Security Adviser, has also developed an institutional mechanism for academia and think tanks (read civilians) to input into our national security policy. But is this new or is this old wine in a new, bloody civilian, bottle?
The answer to this question depends on who frames the terms of the debate. For example, if you're America, or a Pakistani based in an American think tank, you can easily boil down a messy country of more than 200 million people into three simple national security narratives: 1) nuclear security, 2) terrorism, and 3) civil-military relations. It's impossible to change this hardcore orientalist view of Pakistan (rightly earned or wrongly wronged) overnight. So, what do you do if you can't counter narratives because of your history? You create new narratives. Enter the Islamabad Dialogue.
The Islamabad Dialogue is a masterclass in strategic communications which was designed to make headlines like 'let's bury the past' and 'human security is national security'. Media coverage was generated, at home and abroad, including in India, where Pakistan got to set the terms of the debate. There was criticism and cynicism, from friends, frenemies and enemies but it was on a pitch manufactured by Pakistan. That's the beauty of having the convening power of a platform. And this was year one. You can imagine what happens when the best minds in the world, including Pakistan, have a platform to air views that begin to crack the hardcore orientalist view of this country.
So, the Islamabad Dialogue might be a leap forward on how the Pakistani state orchestrates its strategic communications prowess, but does it signal a genuine change, within the powers that be, on how we view our national security? And will that translate into how resources are allocated, and policy is made or is it simply a smokescreen to buy more time or deflect criticism? "Words should be matched by action," shares Maleeha Lodhi, Pakistan's former ambassador to the US, the UK and the UN, who is a perceptive observer with experience within and outside the system. "I'd like to see this being operationalised and actions being taken in line with the strategy, if this is a really serious move."
Those are the words of the wise. Only action can help us determine whether the titanic is shifting course. But I'm also a young, optimistic man and I anchor my bullishness on two proof points of substance. The first is breaking the ice with India. Over the last few weeks, we've seen a flurry of activity, albeit tentative, indicating that the ice is melting, including murmurs of a potential cricket series between the two arch rivals. The jury is still out on whether Pakistan is being wise or desperate — only time can tell but it's clear that a paradigm shift is taking place. And it predates the current thaw. Opening the Kartarpur corridor after Kashmir's annexation shows Pakistan means business and can take difficult decisions.
The realisation might not be benign, it may be selfish; the idea that Pakistan cannot grow the defence budget until it grows the economic pie. But the realisation exists. That the status quo doesn't work. Another example is not linking Pakistan's support in the Afghan peace process to the resolution of Kashmir. Yet another example is not loaning out our troops for a war in Yemen. Slowly but surely, our titanic is shifting course away from a straight-line barrelling towards a North Korean style national security state.
My final proof point for optimism, call it the exuberance of youth, is the appointment of Moeed Yusuf himself. The act of appointing a civilian, an intellectual, an academic who invents the Islamabad Dialogue out of thin air is impressive. Putting our best minds to work on Pakistan's most difficult problems is a recipe for genuine tabdeeli.
Published in The Express Tribune, April 4th, 2021.
Like Opinion & Editorial on Facebook, follow @ETOpEd on Twitter to receive all updates on all our daily pieces.
COMMENTS
Comments are moderated and generally will be posted if they are on-topic and not abusive.
For more information, please see our Comments FAQ