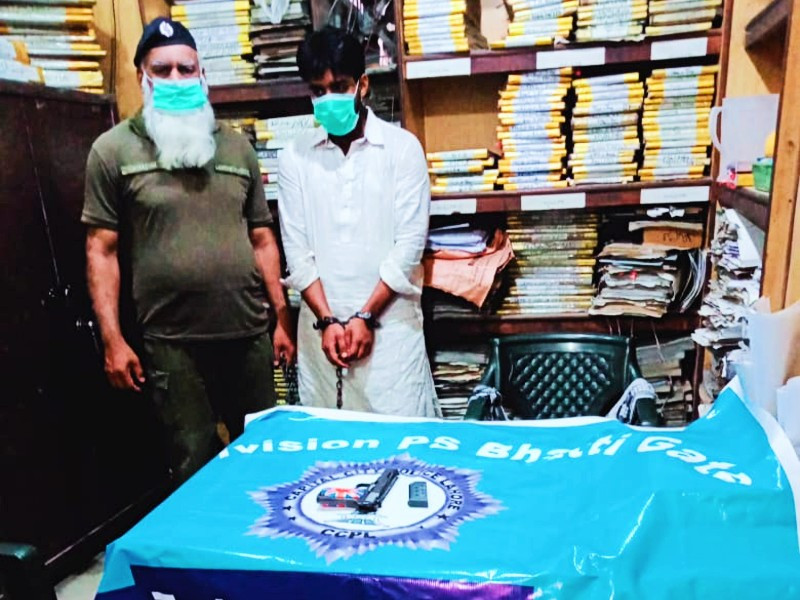 ---
LAHORE:
Police arrested a murder accused again, hours after being released from jail over aerial firing charges in Lahore on Friday.
According to details, Shahzad resorted to aerial firing to celebrate his release in Bhati Gate area of the provincial capital.
His neighbours reported the incident to the police who reached the spot and arrested the suspect.
The suspect was sent to jail in a murder case registered in Mughalpura police station earlier.
A case against the offences of aerial firing and illegal weapon has also been registered against him. The police said that they were investigating the matter further.
Read more: Social media promoting gun culture
On March 22, a five-year-old girl fell prey to aerial firing in Peshawar after a stray bullet hit her in the head while she was playing in the backyard of her home.
As per reports, the aerial firing in different areas of Khyber-Pakhtunkhwa's capital occurred on weekend nights during weddings but police did not take any action against violators.
Fareeha, a resident of Sufaid Dheri area, was rushed to Hayatabad Medical Complex in critical condition after suffering bullet wound to the head.
The dreadful images of the injured girl went viral on social media with netizens sharply criticised the Peshawar police for their negligence and called for initiating a mass awareness campaign to stop such incidents.
Also read: Spring is here, kites in the air
On March 8, the Rawalpindi district police arrested around 20 people on the charges of violating aerial firing and kite flying ban in last five days, said a police spokesman.
Waris Khan police arrested Muhammad Raheel, Muhammad Idrees and Ahmed Nadeem allegedly for aerial firing and celebrating Basant. Police also recovered weapons from them.
A police spokesman said that the action was taken when videos of the accused went viral on social media.
Police identified the young men and arrested 20 others seen in several videos, he further said.