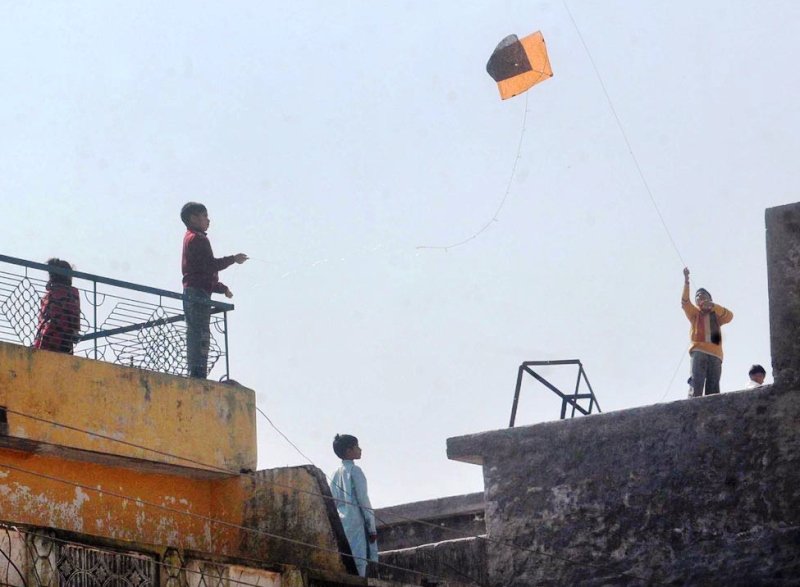 ---
RAWALPINDI:
The kite enthusiasts in the garrison city celebrated Basant Night on Thursday. Crackdown of the police against the kite flying proved futile.
The ages-old kite festival heralding the arrival of spring is banned owning to several incidents of metallic and glass laced strings getting entangled around the necks of people.
The kite-flyers used white and yellow kites to fill the dark sky with colours. Intermittent aerial firing and fireworks continued in the areas too.
Earlier, Basant was celebrated in the cantonment areas last week, while Kite Flying Association (KFA) had announced to celebrate the second Basant on February 25 and 26 in Rawalpindi city despite the ban.
The enthusiasts have also completed all preparations to celebrate Basant again after the Friday prayers.
Rawalpindi police have also issued a comprehensive plan against the banned activity. More than 2,500 personnel will be deployed on rooftops.
According to KFA, kite-flying enthusiasts celebrated Basant Night on Thursday in different areas including Mohanpura, Dhok Rata, Dhok Hasso, Hazara Colony, Dhok Khabba, Amrapura, Bani, Waris Khan, Khayaban Sir Syed, Pirudhai, Bagh Sardar, Bhabra Bazaar, Arya Mohalla. Dhok Elahi Bakhsh, Gawalmandi, College Road, Naya Mohalla, Satellite Town, Sadiqabad, New Katarian, Dhok Kala Khan, etc.
Meanwhile, Rawalpindi police have issued a plan to curb kite flying and aerial firing. Around 2,500 police personnel, 135 police teams, 30 dolphin force squads, 35 Muhafiz squads, 10 elite force personnel will perform duties to enforce the ban on the activity.
The police personnel have been deployed on the rooftops of 280 buildings while drone cameras would be used for monitoring the violators.
The police officials said that legal action would be taken against the kite-flyers and those involved in the aerial firing.
Rawalpindi City Police Officer (CPO) Ahsan Younus said that kite flying was a deadly sport and people should abstain from it. He added that the crackdown against kite flyers and sellers would continue. He urged the citizens to act responsibly.
Published in The Express Tribune, February 26th, 2021.