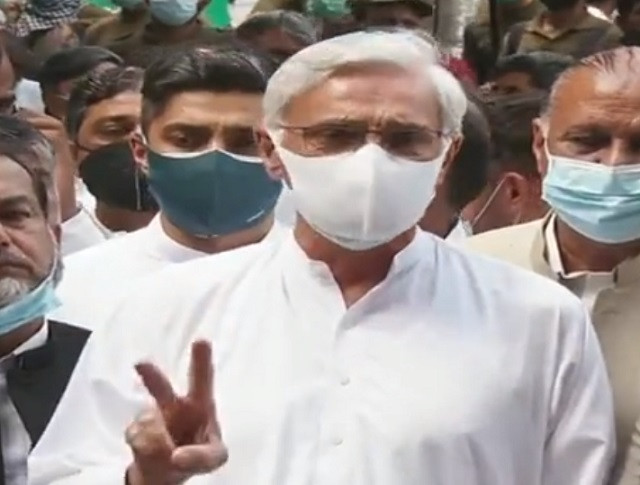 ---
LAHORE:
Estranged Pakistan Tehreek-e-Insaf (PTI) leader Jahangir Tareen and other co-accused in the money laundering case withdrew their interim plea for pre-arrest bails, on Friday.
The Lahore High Court (LHC) heard the money laundering case involving Tareen, his son Ali Tareen among other accused.
The Federal Investigation Agency (FIA) deputy director told the court that there was no need to arrest Jahangir Tareen at the moment.
At this, the PTI leader's counsel, Salman Safdar, said they were withdrawing the pleas on the basis of the FIA official's statement.
Safdar further stated that the case doesn't even come under the FIA's ambit, adding that it is the Securities and Exchange Commission of Pakistan (SECP) that looks after matters pertaining to companies.
He observed that the investigative agency took the role of a petitioner unto itself. He asked for the FIA to inform the accused 10 days prior to their arrests.
Read Transfer of judges, FIA officials taking place in Tareen's case
Approving the request, the court wrapped up the matter of the pleas, directing the authorities to inform the accused seven days prior to arresting them.
Talking to the media after his appearance at court, the estranged PTI leader said that he had appeared in more than 100 proceedings pertaining to the case.
"I submitted all the details with the court and all transfers were made through banks. Now, after a hassle of 10 months, the FIA informs the court that there is no need to arrest me," he remarked.
A day Earlier, it emerged that FIA had decided it would not arrest the PTI leader, his son, Pakistan Muslim League-Nawaz President Shehbaz Sharif and his son Hamza Shahbaz in connection with its investigation into the multi-billion rupees sugar scam.
The FIA has sent its summary to Adviser to the PM on Accountability and Interior Mirza Shahzad Akbar and the Federal Board of Revenue (FBR) will carry out further proceedings in the sugar case.
FIA sources said as the investigation had been completed, it was not necessary to arrest anyone. They added that all records and investigation reports had been forwarded to the FIA DG and the prime minister's adviser.
The FIA has fully investigated the fraud and could not recover the profit made through tax evasion. This is the job of the FBR, the sources added.
The authority completed its investigation report, according to which the owners of sugar mills were found to be involved in making profits through speculative pricing.
They made a windfall profit of around Rs100 billion through this practice and were also hoarding the sweetener.
The authority also detected tax evasion worth billions of rupees in the sugar scandal.