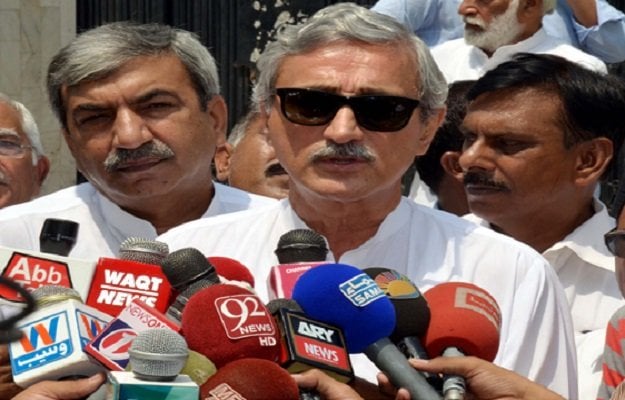 ---
LAHORE:
The banking court and special banking offences court judges, who were hearing disgruntled PTI leader Jahangir Tareen and his son Ali Tareen's cases, have been transferred while some transfers have also been noticed in the Federal Investigation Agency (FIA).
Special banking offences court judge Chaudhry Ameer Muhammad Khan has been transferred.
On the other hand, Additional District and Sessions Judge Hamid Hussain on Monday remarked that he could not hear Tareen's case as a new judge, Ahsan Bukhari, was being appointed to hear it.
However, during the proceedings, the FIA revealed that the transfers were made in the agency also. The investigation officer (IO) who was conducting investigation in the said cases had also been transferred.
It irked judge Hussain who then issued a show-case notice to the concerned officer who had transferred the IO.
As the proceedings commenced, banking court judge Hussain asked the FIA of any development in the last few days. The FIA deputy director replied that not so far as officers are being transferred on a rotational basis.
"Where is the IO of this case?" the judge asked. The FIA official replied that he had been transferred. "How an IO could be transferred. I am going to issue a show-cause notice to the concerned officer who transferred the IO."
The judge fixed June 11 for further proceedings.
Judge Hussain was hearing pre-arrest bails of Jahangir Tareen and Ali Tareen in some FIRs registered against them over alleged involvement in corporate fraud and money laundering case.
In the special banking offences court, the staff of the court fixed June 11 owing to the transfer of judge Khan.Jahangir Tareen's media talk
Talking to the media after his appearance, Tareen suggested the government to dispense justice to them and avoid doing politics with them.
He seemed optimist over the report prepared by Barrister Ali Zafar, but expressed concerns over not being made public.
"We should have been given justice till now after the preparation of the report by Barrister Zafar," he said. However, he claimed that some facts had come to his knowledge and he would bring them before the media after the report was made public.
"Please avoid doing politics with me and provide justice," Tareen added. To a query about the FIR registered by Adviser to the Prime Minister on Interior and Accountability Mirza Shahzad Akbar against Tareen group's MPA Nazir Chohan, he replied he will talk on it later.
COMMENTS
Comments are moderated and generally will be posted if they are on-topic and not abusive.
For more information, please see our Comments FAQ