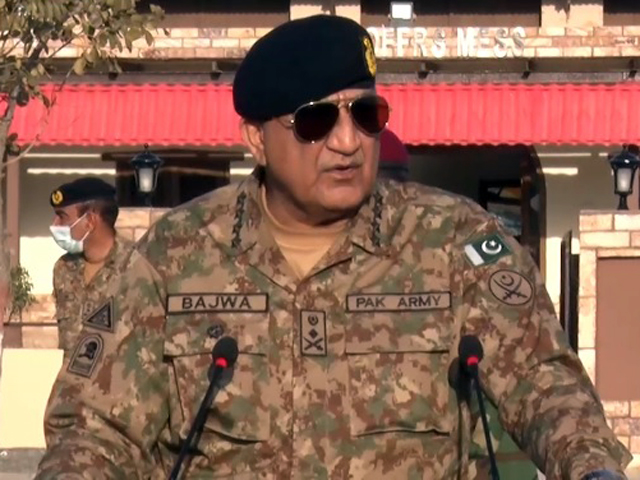 ---
Chief of Army Staff (COAS) General Qamar Javed Bajwa has said that the Pakistan Army will make all possible efforts towards the achievement of enduring peace for sustainable socio-economic development of Balochistan.
According to the Inter-Services Public Relations (ISPR), the army chief remarked during his visit to the Corps Headquarters Quetta on Tuesday.
The COAS was given a detailed briefing on the security situation, operational preparedness and border management including fencing along the Pak-Afghan and the Pak-Iran borders.
Also read: Civil, military huddle discusses national, regional security at ISI headquarters
The military's media wing said that Gen Qamar was also apprised of the socio-economic initiatives undertaken by the army in support of the government of Balochistan and efforts underway for capacity enhancement of law enforcement agencies (LEAs) to ensure peace and stability.
"Terrorists won't be allowed to destabilise peace efforts," the army chief was cited by the ISPR as saying.
He emphasised that all-out efforts be made to assist the provincial government in ensuring law and order.
General Qamar also lauded officers and men for their dedicated efforts, continued vigilance and high morale.
On arrival, the COAS was received by Corps Commander Lieutenant General Sarfraz Ali.
Meanwhile, Prime Minister Imran Khan has lauded the performance of armed forces of the country, saying that Pakistan Army has produced "unmatched results" when pitched against its adversaries and successfully deterred the nefarious designs of Pakistan's enemies.
He made these remarks while addressing the participants of staff course at Command and Staff College in Quetta, according to a statement issued by the ISPR.
Imran Khan said the country's defence is impregnable due to professionalism of the battle-hardened armed forces.
Prime Minister Imran Khan addressed participants of staff course at Command and Staff College, Quetta during his Balochistan visit on Tuesday, says #ISPR pic.twitter.com/zpxbfJ36vo

— The Express Tribune (@etribune) June 1, 2021