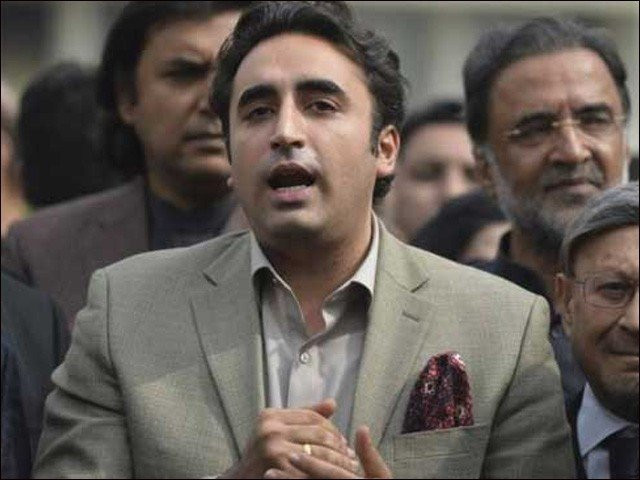 ---
ISLAMABAD:
PPP Chairman Bilawal Bhutto Zardari on Sunday dubbed Prime Minister Imran Khan the biggest "economic criminal" in the country's history.
"When the economic crisis hit the world, the country's economy was not as bad as it became after Imran Khan came into power," the PPP chief said in a statement.
Bilawal said If PM Imran was not stopped, he would set a fire of economic misery that continue to burn for decades.
"Imran Khan would leave behind stories of economic ruin and leave the country like [former premier] Shaukat Aziz and [former military ruler] Pervez Musharraf," he added.
"We will not allow this to happen. Imran Khan will have to apologise to the common man for his economic crimes."
Read: Bilawal asks PM Imran to 'reveal reasons' for repaying $3b to Saudi Arabia
He maintained said that by receiving large amounts of loans from abroad on strict conditions, the prime minister's cabinet was looting the national exchequer.
"His [PM Imran's] crime is not only to increase inflation but also to patronise the mafia responsible for it."
Bilawal said the prime minister, who hurls accusations against others, should spend time on introspection.
"The people of Pakistan will never forgive him for his economic crimes."
A day earlier, Bilawal rejected the federal government's claims of economic progress.
He said the PTI government was rubbing salt into people's wounds by making 'false' claims about economic development.
"The government, which has left masses at the mercy of inflation and under whose nose millions are now below the poverty line, should feel ashamed making such false claims," he remarked.
He claimed that the PPP government in Sindh had not only brought down the poverty ratio by 7.6% but today the per capita income in the province was the highest in the country.
He added that ever since the PTI government had come to power in Khyber-Pakhtunkhwa, the poverty ratio in the province stood at 27% after an increase of 8.9%.
"The situation has come to a point where poverty ratio in the country is increasing, but Imran Khan is contemplating levying tax on the pensions of retired employees."
He said the PPP strongly rejected the government's plan to levy 10% tax on the pensions of retired employees.
"My party will continue to confront PM Imran's anti-people policies on all fronts," the PPP chairman pledged.
"Those who voted for the PTI have put the entire nation in a quandary."
Read more: Amnesty schemes for elite, food charity for poor won't work: Bilawal
Bilawal predicted that PM Imran had no political future as he was responsible for the country's economic crisis.
On Thursday, the premier while addressing an online event claimed his political opponents and "mafia" want to topple his government "because they are scared of his success".
"Opponents seeing their political death... the mafia is scared of my government's success," he added.
The premier while recalling the 2018 general elections said his opponents had predicted that his party would face a defeat in the polls. "But we secured the two-third majority in Khyber-Paktunkhwa due to our performance and our opponents are wary of the same results in the upcoming elections at the national level."
PM Imran without naming anyone said the mafia was blackmailing him for an NRO or else they would topple his government. (With input from agencies)