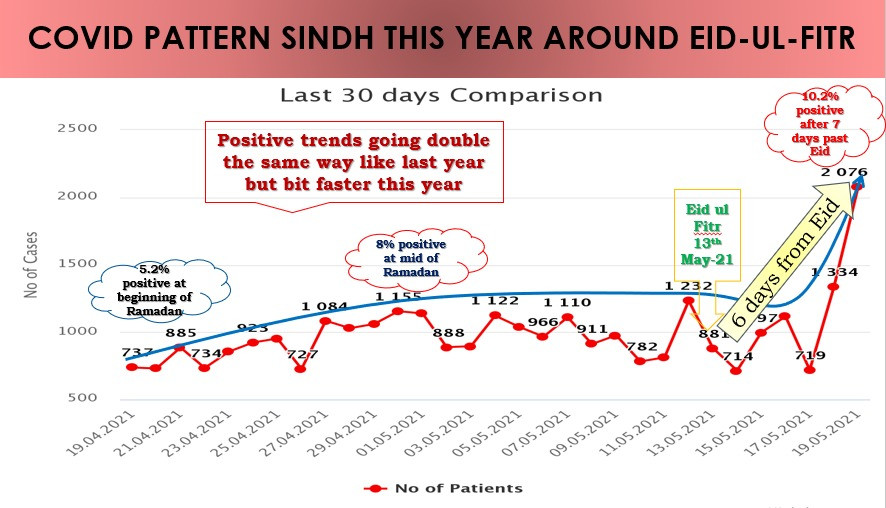 ---
KARACHI:
The Sindh government decided on Thursday to maintain the coronavirus-related restrictions currently in place given the surge of infections observed post Eidul Fitr. Chairing a meeting of the Provincial Task Force on Coronavirus to review the situation, Sindh Chief Minister Syed Murad Ali Shah expressed alarm at the spike in coronavirus cases.
On Eidul Fitr, May 13, there were 1,232 cases and after six days of Eid 2,076 infections were detected in a single-day, the meeting was apprised. "A record 20,421coronavirus tests were conducted yesterday [Wednesday] out of which 9,000 were in Karachi," he said, adding that 2,076 persons had tested positive. This indicated a positivity rate of 10.2 per cent, noted the CM, adding that the positivity rate for Karachi stood at 16.82 per cent.
The meeting was apprised that data from May 13 to 19, the metropolis saw a 28 per cent positivity rate and 16 fatalities in East district, 17 per cent positivity rate and six deaths in South district, 14 per cent and eight fatalities in Central and 11 and 10 per cent positivity rates in West and Korangi districts, respectively.
Meanwhile, Hyderabad reported 10 per cent positivity rate and 21 deaths, Sukkur 14 per cent positivity rate and one death, in the same duration. A total of 7,837 coronavirus cases were detected and 67 persons succumbed to the pandemic in the past one week, the meeting was told. "This shows that the cases are on the rise in Sindh, and we are finding it hard to ease the restrictions in the province," said Shah.
READ Govt arranges immediate payment for purchased vaccines
Members of the taskforce and others present at the meeting, including provincial ministers, chief secretary, law enforcers and representatives from the World Health Organisation, advised that current restrictions be upheld and tougher measures be taken if necessary. The Sindh government's decision comes on the heels of the National Command and Operation Centre's announcement to lift a number of restrictions imposed to curb the spread of the virus.
These included the reopening of educational institutions in districts with a positivity ratio lower than five per cent and the resumption of outdoor dining. At the NCOC meeting on Wednesday, Sindh Health Minister Dr Azra Fazl Pechuho had apprised that the rate of infections in Sindh had increased three folds last year after Eid.
This year, she had said, the pattern is expected to hold. But as the baseline is higher this time, the number of positive cases will also likely be higher, she added. The health minister had further noted that people travelling during and after Eid holidays increased the risk of the infection spreading further. She had recommended that railway operations be curtailed for another week at least.
Earlier this week, the Sindh government did, however, begin relaxing some non-pharmaceutical interventions (NPIs) - public transport has resumed, bakeries and milk shops may remain open till midnight and restaurants may offer takeaway and drivethrough services past 6pm. The provincial taskforce is to meet again on Saturday (tomorrow) to review the situation further.
COMMENTS
Comments are moderated and generally will be posted if they are on-topic and not abusive.
For more information, please see our Comments FAQ