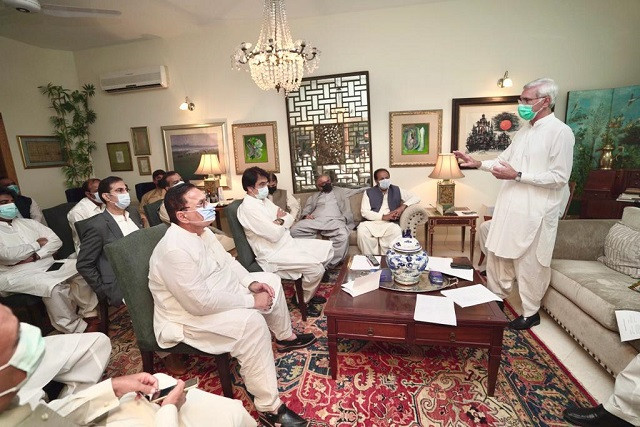 ---
Barrister Syed Ali Zafar, who was appointed by Prime Minister Imran Khan to ascertain whether the concerns of estranged PTI leader Jahangir Tareen and his newly-formed group were genuine, on Thursday denied rumours that he had submitted a final report regarding the matter.
On Tuesday, Tareen launched a group of like-minded lawmakers in the lower house of parliament as well as the Punjab Assembly at a dinner he hosted for his supporters.
Raja Riaz is the parliamentary leader of the group in the National Assembly, while Saeed Akbar Nawani is the parliamentary leader in the Punjab Assembly.
"It has come to my notice that certain news are doing rounds of submission of report regarding JKT [Jehangir Khan Tareen]," he wrote on his Twitter handle.
Refuting the rumours, Zafar said that they were based on misinformation. "I have not submitted any final report so far," he further wrote.
It has come to my notice that certain news are doing rounds of submission of report regarding JKT. This is incorrect & based on some misinformation. I have not submitted any final report so far.

— Barrister Syed Ali Zafar (@SyedAliZafar1) May 20, 2021
Also read: PTI govt is in 'hands' of Jahangir Tareen: Ahsan Iqbal
The prime minister had formed a one-man committee comprising his confidant Senator Syed Ali Zafar to ascertain whether the delegation's concerns that some people in the government and the PTI were politically victimising Jahangir Tareen were genuine.
Talking to media outside a Lahore court, Tareen had said that Zafar had held a meeting with his group. "I hope that his report will soon be unveiled or sent directly to the prime minister so that this matter can be taken forward."
Read more: Tareen announces like-minded group
Talking about the reason why the group was formed, the PTI leader said that it was constituted in response to Punjab government's "retaliatory actions."
However, the former PTI general secretary refuted reports of a division in the party. "The prime minister had promised to deliver us with justice but then the Punjab government began acts of retaliation against us," he claimed.
Responding to Tareen's claims, Special Assistant to Chief Minister on Information Dr Firdous Ashiq Awan said that CM Usman Buzdar was regularly meeting the parliamentarians and addressing their grievances.
"Impression that the group could harm the provincial government had been refuted by none other than Tareen, who categorically stated that they were part of the PTI and would remain so," she added.
Firdous said the party leadership was ready to hear every parliamentarian's reservations but "they should behave."
Responding to a question about victimisation of PTI MPAs, SACM said it was neither Buzdar's policy nor his approach.
Last month, talking to a delegation of some pro-Tareen lawmakers, PM Imran had categorically said the FIA would not be influenced to give relief to the disgruntled leader in the sugar scam probe but he would personally look into the matter to avoid any political victimisation in the case.