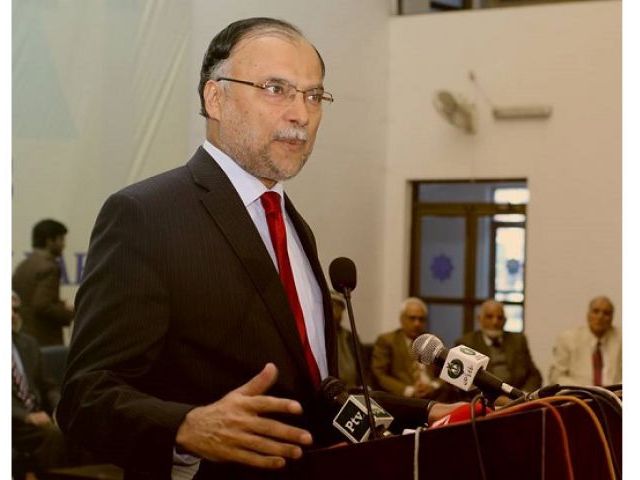 ---
NAROWAL:
Pakistan Muslim League Nawaz (PML-N) senior leader Ahsan Iqbal has said that the Prime Minister Imran Khan-led government is in the "hands of" estranged ruling PTI leader Jahangir Tareen.
Speaking to media in Narowal on Saturday, Ahsan said the PTI government is responsible for sugar, flour and other crises which led to increasing in food inflation in the country.
"NRO is in the pocket of Jahangir Tareen..life of Imran Khan's government rests with Tareen and he can take it away whenever he wants," he added.
He said that PM Imran will definitely give an NRO-like deal to Tareen, who is facing charges of earning illegal profits worth billions of rupees through unjustified price hikes, benami transactions, tax evasion, misuse of subsidy and purchasing sugarcane off the books.
Tareen said earlier this month that PM Imran assured his friends – the ruling party lawmakers who have rallied around the PTI's disgruntled leader – that "he [PM] is monitoring my matter personally".
Also read: FIA admits it wrongly accused Tareen of using fake accounts
"The PM met my friends and the meeting concluded on a positive note. My friends conveyed their concerns to the premier at length, who assured that he will see the matter personally," Tareen said while talking to the media after a court appearance.
"The premier assured that justice will be meted out," the PTI former secretary general said.
A total of 28 PTI lawmakers – including both National Assembly and provincial assembly members – called on the prime minister on April 27 for "seeking justice" for Tareen who is among the sugar mills owners facing a Federal Investigation Agency (FIA) crackdown.
"The PTI government has made a scandal in every sector, including sugar, flour, medicine, petrol, even Eidul Fitr was scandalised by the government's mismanagement and incompetence," said the PML-N leader.
He said that an attempt was made to put Shehbaz Sharif's name on no-fly list during Eid holidays. In an attempt to cover up its violation of the court order, the government has barred Shehbaz from going abroad by putting his name in the exit control lost (ECL).
(With input from News Desk)