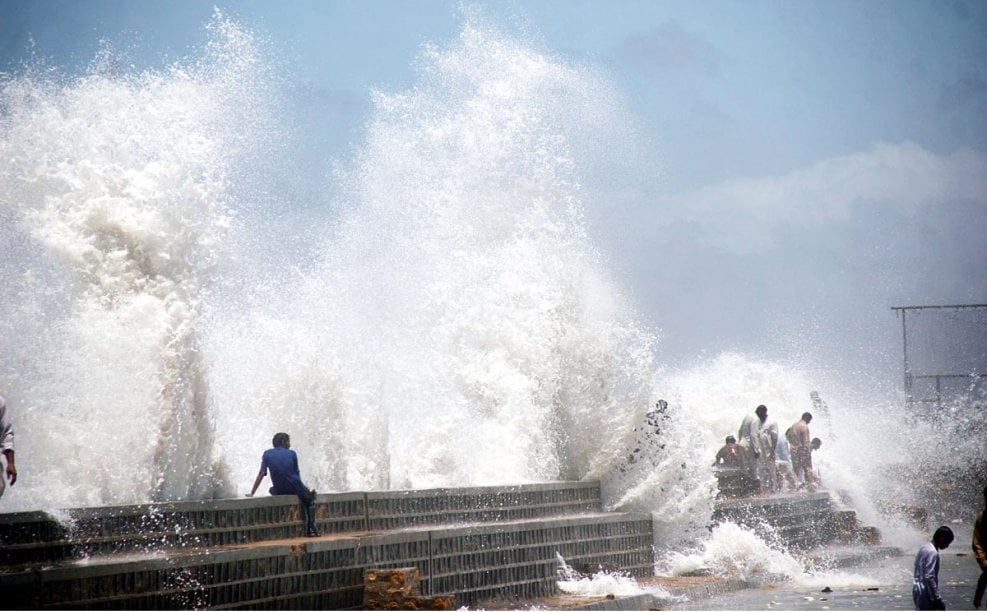 ---
KARACHI:
Cyclone Tauktae – which has intensified into a "very severe cyclonic storm" – drifted further northwestward on Sunday and will reach India's Gujarat state on May 18, the Pakistan Meteorological Department (PMD) said in its sixth cyclone alert.
According to AFP, the cyclone is expected to make landfall in coastal Gujarat as early as Monday night, bringing wind speeds of around 150-16 kilometres per hour. Four people lost their lives on Saturday as torrential rain and winds battered Karnataka state, authorities said on Sunday.
Several Indian towns and villages were flooded and properties damaged, officials added. Two others were reported dead and 23 fishermen were feared missing in the state of Kerala.
Up to 75,000 people are set to be evacuated from coastal districts in Gujarat, where the ongoing Covid-19 vaccination rollout will be suspended on Monday and Tuesday, officials told AFP.
The cyclone is, however, not likely to make a landfall along Pakistan's coastal belt.
"The cyclone will pass without any impact on the country's coastal belt. It will not make a landfall in Pakistan," said PMD Director Sardar Sarfraz while talking to Radio Pakistan on Sunday.
A landfall is the event of a storm moving over land after being over water. "However, the cyclone will cause moderate rains along with strong winds in Thatta, Tharparkar, Badin, Mirpurkhas and Umerkot districts of Sindh," he added.
According to the PMD official, dusty winds currently blowing in Karachi may intensify, bringing up the city's temperature, mainly due to the cyclone's activity in the Arabian Sea.
The PDM on Sunday released cyclone alert-6, stating that Tauktae, intensifying into a "very severe cyclonic storm", is moving further northwestward during the last 12 hours.
Located at a distance of 1,210km from Karachi, the cyclone on Sunday had the maximum sustained winds of 100-120 kilometres per hour around its centre, gusting to 140kmph. "The system is likely to move further northwestward and reach Indian Gujarat by 18th May morning," it said.
The PDM said due to shift in the cyclone's course, "dust/thunderstorm-rain with few moderate to heavy falls with gusty winds of 60-80kmph are likely to occur in Thatta, Sujawal, Badin, Tharparkar, Mirpurkhas, Umerkot and Sanghar districts form May 17-19".
"Karachi, Hyderabad, and Shaeed- Banzirabad, districts [are] likely to experience hot/very hot weather with gusty winds and blowing dust during the next two days. Sea conditions will remain rough to very rough and fishermen are advised not to venture in the sea till May 19," it added.
On Saturday, Sindh Chief Minister Murad Ali Shah, while presiding over a meeting regarding Cyclone Tauktae, declared emergency in all the districts located along the coastline as a precautionary measure to avoid any untoward situation.
The provincial government also announced setting up a central control cell in Karachi to deal with all emergencies that may arise from the tropical cyclone. The cell will work round the clock to resolve issues related to rain emergencies throughout the province.
(WITH INPUT FROM AFP)
COMMENTS
Comments are moderated and generally will be posted if they are on-topic and not abusive.
For more information, please see our Comments FAQ