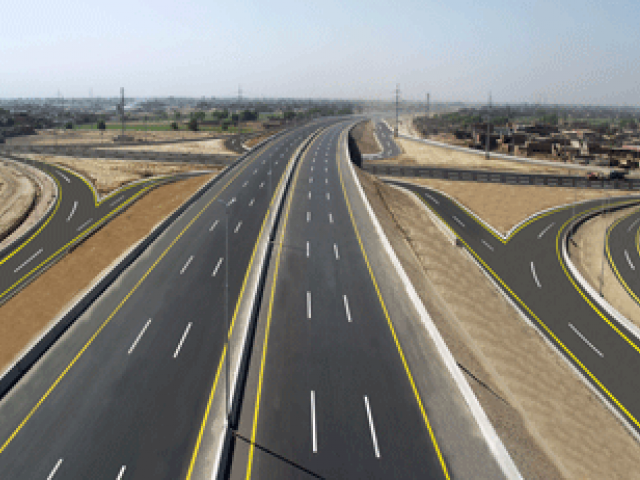 ---
ISLAMABAD:
A number of senior officials including Rawalpindi's former commission Muhammad Mahmood have been found to be involved in illegally changing the alignment of Rawalpindi's 65km long Ring Road project, according to a fact-finding inquiry.
The fact finding inquiry was undertaken to look into the allegations of illegalities in the change of the alignment of the project and the questions of corruption, rent seeking, and conflict of interest.
According to the press release, Mahmood, former land acquisition controller Waseem Ali Tabish and former Project Management United (PMU) deputy director Abdullah committed incurable illegalities, committed deceit and deception and issued orders without having due authority.
"[They also] committed abuse of public funds to benefit a rent-seeking syndicate including themselves."
The inquiry said the former commissioner in sheer violation of laws and rules created rent seeking benefits for himself and a number of housing projects – Nova City, Capital Smart City, New Airport City/Al Asif Housing, Top city, SAS Developers, Blue World and Islamabad Capital Housing Society.
"It has been established that additions of Moorat-Attock Loop and Paswaal Zigzag [to the project] were made to purely benefit private interests with the backing of influential public officeholders, past and present, and influential bureaucrats.
"Through lies, deceit and deception this private rent seeking was being portrayed as public necessity."
It said the federal as well as the Punjab governments were kept in total darkness about the necessary facts and every recommendation made by highest forums for presenting the alignment to Punjab chief minister were willfully and repeatedly ignored.
The report said the project was unlawfully advertised on March 1, 2021 with the help of a PPP leader. The inquiry said the former commissioner "ensured reckless speed" on illegal alignment despite there being clear illegalities.
The commissioner did this, it said, to create irreversibility of the process and to create a dust storm of made-progress; to keep illegalities and his personal conflict of interest hidden from the public and to overshadow any attempt at digging the facts by the momentum built by construction activity.
According to the inquiry report, the build-up of a massive scam "driven by the greed of a powerful rent seeking syndicate" was busted after Prime Minister Imran Khan took notice of the scandalous "shenanigans of the rent seeking syndicate reported along the Attock loop".
It said the rent seeking build-up might have sucked up Rs10s billions towards speculative real estate depriving resource hungry productive sectors and job creating sectors of the twin city economy.
"This rent seeking syndicate planned to thwart the prime minister's vision of vertical development of cities and emergence of high rise business districts within existing urban centers.
"Economic resources which were being diverted to this rent-seeking black hole could significantly improve livability of small cities like Fateh Jang, Attock, Taxila, Gujar Khan, Kotli Sattian and also could lead to urban re-generation of Rawalpindi," it said.
According to the report, the case is now being referred to the National Accountability Bureau (NAB) and the Establishment Division.
The authorities have also stated the process for suspension of the officials.
"NAB is being asked to inquire into Rs2.3billion spent unlawfully by Ex-Commissioner Mr Muhammad Mahmood on illegal land acquisition for building R3 centric hype for boosting sales of real-estate connected with him and with powerful public office holders of past and present.
"Some housing societies are being investigated for being benami fronts of powerful people," it added.
It said the bidding process for the project had also been cancelled.
"Since the alignment emerged illegally no one can ever lawfully regularize it. So this alignment shall never be taken up again for the incurable illegalities underpinning its emergence," it added.
COMMENTS
Comments are moderated and generally will be posted if they are on-topic and not abusive.
For more information, please see our Comments FAQ