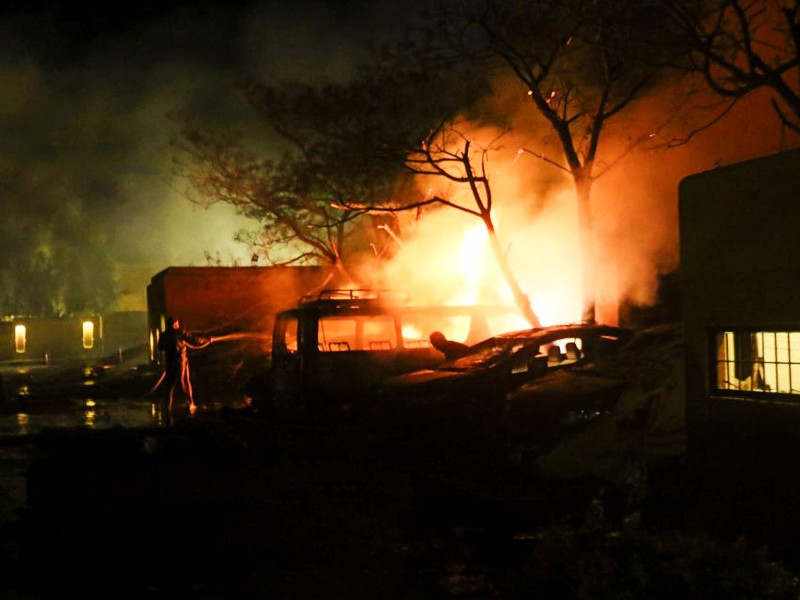 ---
CHAK JHUMRA:
A fire broke out in an illegal oil depot near Jhumra Road in the district on Thursday. Four teams of Rescue 1122 officials arrived at the scene and extinguished the fire.
According to the police report, a fire broke out in an illegal depot which is set up at Jhula Lal Oil Parking Stand near Chak No 202 RB Gayi on Jhumra Road, area of Millat Town Police Station. However, no casualties were reported and the cause of the fire has not been ascertained. The flames engulfed the oil drums in the warehouse.
Rescue 1122 teams reached the spot and controlled the fire. As soon as the incident was reported, DSP Nishatabad Fayyaz Khan SHO Malik Town Abid Hussain Jutt and a large contingent of police reached the spot who carried out the rescue operation under his supervision.
Police said the fire allegedly broke out in the oils drums placed in the area of Jhula Lal Parking Oil Tankers, which caused no casualties but caused financial loss. According to police sources, the illegal oil depot caught fire where oil is stocked after being stolen from government vehicles. There are more than two dozen illegal oil depots at this place called Oil Mini Mandi.
Earlier this year in January, At least three labourers were burnt alive in an incident of fire in a furnace oil factory in Rana Town area of District Sheikhupura.
The fire reportedly broke out because of an explosion in a boiler, and all of a sudden it turned into a huge one. A rescue officer shared with The Express Tribune that a caller intimated the service about the fire and said that two or three persons of the staff were missing.
The area is around 10 kilometres away from Shahdara, Lahore and some 50km from Sheikhupura city. The rescue teams were dispatched from Lahore and Sheikhupura.
At least 30 rescuers and 10 rescue vehicles participated in the rescue operation which was led by District Emergency Officer Sheikhupura (DEO) Rana Ejaz. The rescuers strived first to evacuate the victims and bodies after they reached the site, the official said.
They launched the search operation and evacuated three bodies. The bodies were shifted to a morgue. Due to the fire, a portion of the factory building collapsed. It was feared that the victims might get trapped under the debris.
Published in The Express Tribune, May 7th, 2021.