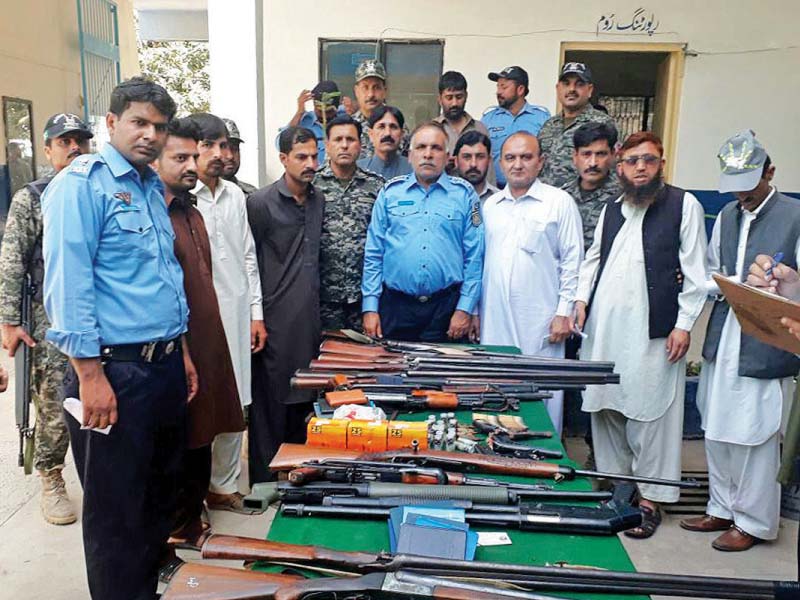 ---
RAWALPINDI:
The Rawalpindi police have taken action against 679 suspects of aerial firing and possession of unlicenced firearms so far this year, a spokesperson said on Monday.
They arrested 666 people and seized a large number of firearms and ammunition from their possession. The weapons seized include 596 pistols, 44 rifles, 21 Kalashnikovs, four carbines, and 68,331 rounds of different calibres.
To date, the Potohar police has registered 229 cases and arrested 242 suspects, Saddar police registered 209 cases and apprehended 182 suspects while Rawal police registered 241 cases and arrested 242 offenders.
Meanwhile, the Rawalpindi police arrested 10 people for possessing unlicensed weapons in the last 24 hours. The detained men were identified as Zubair Khan, Zahoor Ahmed, Mohammad Adeel, Rehmatullah, Imtiaz Ahmed, Zeeshan, Abid Mahmood, Arif, Safir, and Hamza Rehman. Ten pistols and ammunition were recovered from their possession and cases have been registered against them.
The campaign was initiated on the directions of Rawalpindi City Police Officer Ahsan Younas. The CPO commended the divisional SPs, SHOs, and police teams and directed them to continue the campaign to book those in possession of illegal weapons as well as put an end to aerial firing.
Published in The Express Tribune, April 27th, 2021.