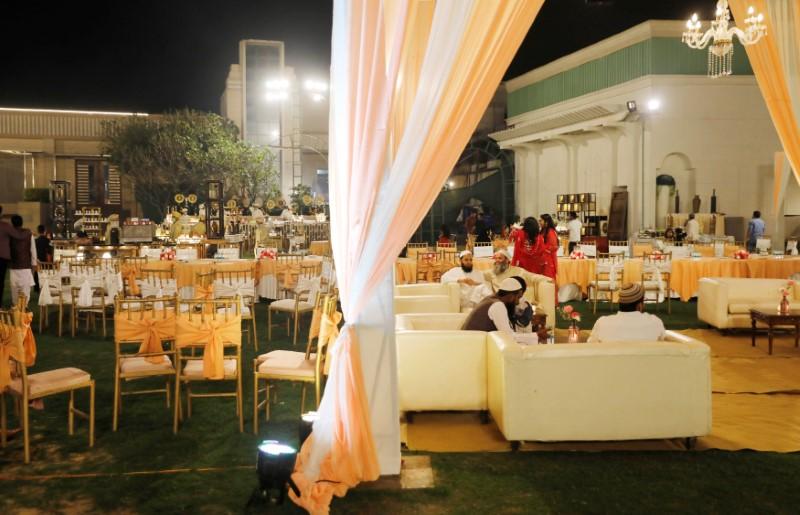 ---
KARACHI:
Wedding hall owners in Karachi announced on Saturday that they would be resuming business from the 15th day of Ramazan (April 28), despite the Sindh government having extended corornavirus-related restrictions.
Addressing a press conference at the Karachi Press Club, All Pakistan Caterers and Decorators Qais Mansoor said the restrictions on wedding ceremonies on account of the coronavirus pandemic had put at risk the livelihoods of around a million people.
Mansoor claimed that the positivity ratio of Covid-19 was "extremely low" in Karachi.
On this ground, he called for the government to allow outdoor wedding ceremonies, adding that the authorities had also permitted outdoor dining at eateries.
He reiterated that the city's wedding hall owners would resume business midway through Ramazan.
Similarly, Rao Waqas of the All Pakistan Caterers and Decorators Association was of the view that wedding ceremonies should be banned in areas where Covid-19 positivity ratio was above eight per cent.
"But the situation is Karachi is not that bad," he was quick to add.
Karachi Banquet Halls Association chairperson Shariq Memon lamented that wedding hall owners still hadn't fully recovered from the losses they suffered due to pandemic-induced lockdowns in 2020.
"And the government has burdened us with restrictions yet again," he commented.
He too announced that banquet halls across the city would start holding events from the 15th day of Ramazan.
The Sindh government had announced a ban on wedding receptions in March, with effect from April 6.
The Sindh Home Department additional secretary had issued a notification in that connection, stating in pursuance of the decisions taken by the NCOC and communicated via letters dated March 22, 2021 and March 29, 2021, the Sindh government, in exercise of powers under Section 3(1) of the Sindh Epidemic Diseases Act, 2014 was enforcing a new set of coronavirus-related restrictions with immediate effect until April 11, 2021.
As per an earlier order of the Sindh government, issued on March 15, 2021, only outdoor wedding functions were allowed with limited guests until April 5, 2021. While the restriction was upheld until the said time, a complete ban on wedding functions was imposed from April 6, 2021.
On Friday, the Sindh Home Department issued another notification, stating that the ban on indoor and outdoor wedding ceremonies, among other pandemic-related restrictions, had been extended until May 16.
In the new notification, the provincial authorities changed the business closure days to Saturday and Sunday and instructed that all commercial activities were to take place from Sehr [pre-dawn meal] till 6pm five days a week. However, essential services have been exempted from such restrictions. While a complete ban on indoor dining remains in place, outdoor dining services are not to be offered after 12pm. A complete ban has been placed on all indoor and outdoor gatherings, including social, cultural, and political, sports, musical, religious and other events, and amusements parks, shrines and cinemas are to remain closed. However, walking and jogging tracks will remain open for the public, but with the strict implementation of Covid-19 standard operating procedures.
Published in The Express Tribune, April 18th, 2021.