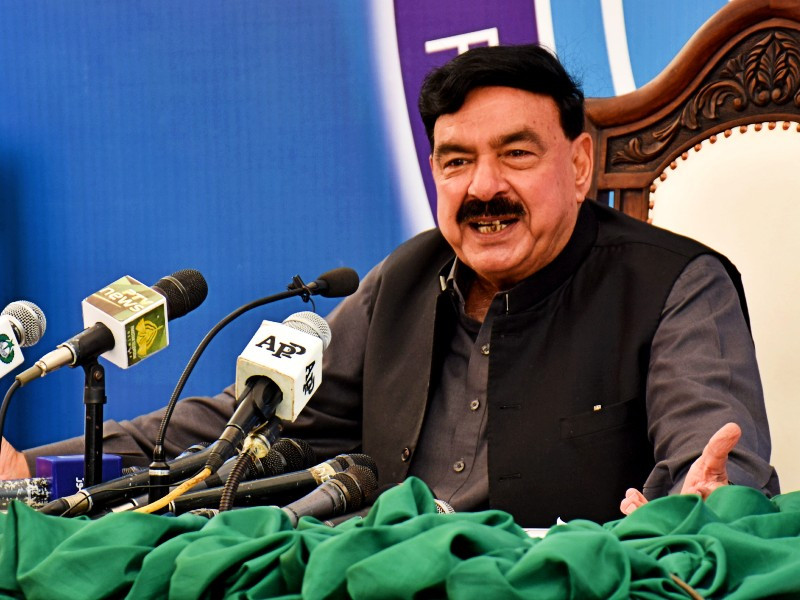 ---
ISLAMABAD:
Interior Minister Sheikh Rashid on Friday apologised for blocking access to social media applications for a few hours on security grounds amid a crackdown on the banned Tehreek-e-Labbaik Pakistan (TLP).
"I apologise for suspending the services of social media for three hours because they [TLP] could have taken to the streets after Friday prayers," Rashid said in a video statement, pledging that such a ban would not be imposed again.
The social media services remained suspended for nearly four hours across the country after the interior ministry in a notice to the Pakistan Telecommunication Authority (PTA) requested "complete blocking" of Twitter, Facebook, WhatsApp, YouTube and TikTok until 3pm.
The services were fully restored at around 4pm.
Rashid said the crackdown against the ultra-right wing group would continue and "no one will be allowed to take law into their hands at any cost".
"We have declared them [TLP] a proscribed organisation. We will also go for its dissolution, freeze their bank accounts and block passports as well," he added.
The minister paid tribute to the personnel of police, Rangers and other provincial authorities for defeating the elements involved in spreading chaos in the country.
A senior telecommunications authority official told Reuters that access to certain social media applications was restricted temporarily in order to maintain public order and safety.
"Access to social media applications has been restored," the PTA said in a later statement.
The temporary ban on social media came after French nationals and companies in Pakistan were advised by their embassy to temporarily leave the country, in the wake of rallies led by the TLP that paralysed many cities and left four police officers dead.
Political parties frequently use social media to rally supporters, and the announcement came just before Friday prayers, which usually draw huge crowds to mosques where firebrand sermons have in the past catalysed protests.
Authorities have used strategic social media bans and cuts to mobile services in the past in an attempt to head off major protests.
Thousands of TLP activists and supporters spilled onto the streets in cities across the country on Monday after their leader was detained following his call for the expulsion of the French ambassador.
Armed with sticks, canes and in some instances guns, they went on a rampage, causing loss of life and damaging properties worth millions of rupees.
Prime Minister Imran Khan on Friday said four police officers had been killed and more than 600 injured in clashes.
"These past few days have been chaotic," said Mariam Jamal, who works at a digital marketing company in Lahore.
"First we couldn't get to work on time because of the traffic jams and road blocks, and now we can't really do much because social media is blocked."
The social media ban affected many Pakistanis already suffering from the fallout of the Covid-19 pandemic.
In Peshawar, Eqtedar Ahmad told AFP his work as a doctor at a private hospital had been disrupted.
"We use WhatsApp for routine business -- including sending lab reports to patients -- and this current suspension has affected us severely," he said.
Wamiq Haris, a 30-year-old who depends on social media to run his food delivery service in Karachi, the country's economic hub, said orders had plummeted.
"Every day we face a new challenge for our business," he told AFP.
Protests had been cleared from most cities by Friday, but in Lahore hundreds of TLP supporters continued a sit-in at a religious school and party headquarters.
More than 200 people have been arrested, police sources said, while the TLP said some of its supporters had died.
The government on Thursday decided to approach the apex court seeking the dissolution of the TLP after the federal cabinet outlawed the group under the country's anti-terrorism law.
After imposing the ban, the government also decided to circulate another summary among members of the federal cabinet for the dissolution of TLP on April 16, saying the matter would then be taken to the Supreme Court.
With input from agencies
COMMENTS
Comments are moderated and generally will be posted if they are on-topic and not abusive.
For more information, please see our Comments FAQ