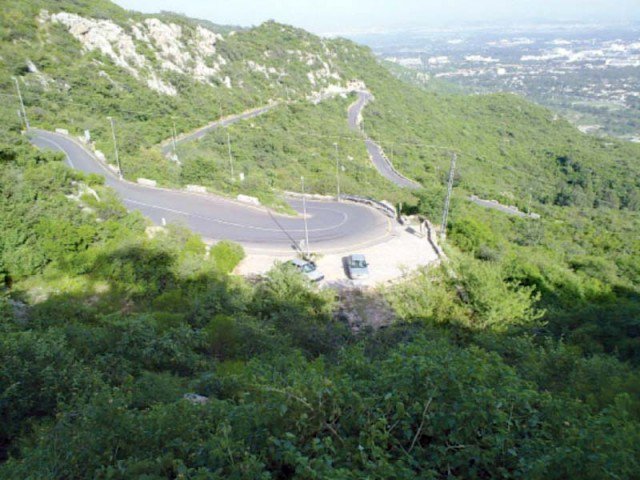 ---
ISLAMABAD:
Yet another fire broke out late on Tuesday afternoon and burnt to ashes a lush green patch of Margalla Hills National Park. The incident happened near Sinhari village which is located inside the national park.
An Islamabad Wildlife Management Board (IWMB) official said firefighting staff had been dispatched to the scene of the incident to put out the fire. He said Sinahri village is located at the back of PAF headquarters near Kalajar village.
The official said the IWMB firefighting team was rushed to the spot as soon as reports of the fire were received. He added the fire extinguishing operation was still in progress further details would be shared with the media once the blaze was brought under control.
Another official connected with the firefighting section told this correspondent on condition of remaining anonymous that there had been more than half a dozen fires in the national park since April began. He added that most of the fires had been set deliberately by local people residing in the national park.
He said that since April 1 fire season had started in Margalla Hills National Park. He said the locals set fires to harass IWMB staff when they try to stop poachers and illegal cutting of forest trees.
Another official said the Federal Ombudsman Secretariat had made recommendations that were endorsed by the Supreme Court of Pakistan to prevent fire incidents in Margalla Hills. Unfortunately, no practical step has been taken to date, an IWMB official told APP.
He said the Board had sent its plan for firefighting arrangements but to no avail. "The main cause of fires in the Margalla is local people's resistance and avenging attitude towards IWMB enforcement measures. They set fire in the wild to discourage IWMBss action against poaching and illegal tree cutting," he told.
The IWMB official added that locals visiting the national park often had barbeques or lit fires for fun. This was resulting in massive wildfires in the National Park. He called this irresponsible behaviour on the part of the visitors.
He said that the fires were usually started by these public enemies of the environment early morning or after sunset. These timings made it difficult for IWMB staff to respond at once or at least in the minimum possible response duration.
Published in The Express Tribune, April 14th, 2021.