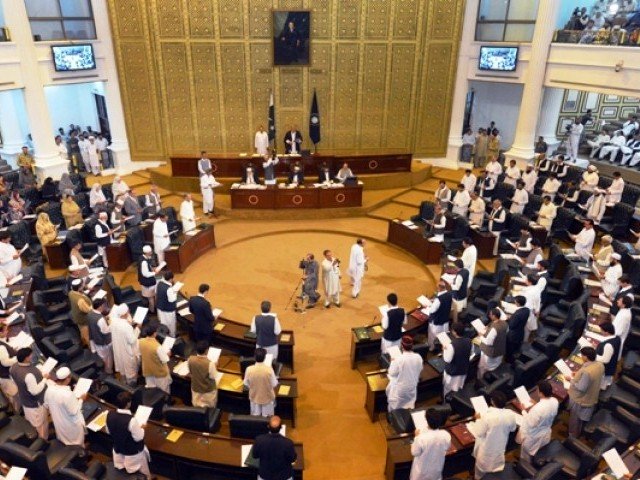 ---
PESHAWAR:
The Khyber-Pakhtunkhwa (K-P) assembly adopted three supplementary resolutions and deferred debate on an adjournment motion regarding law and order in the province on Friday. The House adopted three supplementary resolutions demanding Sehat Insaf Cards for children suffering from Thalassemia, easy access to Islamabad airport by constructing an interchange on Peshawar-Islamabad motorway and legislation for the adoption of children.
These resolutions were sponsored by PPPP and MMAP lawmakers. A report of Standing Committee on Higher Education, Archives and Libraries Department was adopted by the House. The House took up six out nine starred questions while lawmakers asked two supplementary questions. The Chair referred a privilege motion of PTI lawmaker to the relevant committee which was against Tehsil Municipal Officer, Peshawar. An adjournment motion regarding law and order in the province was deferred. The motion was sponsored by a PML-N lawmaker.
Read Militant killed, four nabbed in Sibi
The House took up two calling attention notices which were regarding the establishment of observation centers under the Khyber Pakhtunkhwa Juvenile System Act, 2018 and KhyberPakhtunkhwa Children Protection and Welfare Act, 2010 and protest of nurses in the province for approval of their service structure. Earlier provincial minister Shaukat Yousafzai said that the information about the adoption of children should be kept in complete secrecy. The resolution was later adopted. During the session opposition members hit out at the bureaucracy, asking the government to make them answerable to the parliament. They blamed that IGP K-P was asked to appear in the assembly but he didn't.
On this the deputy speaker said that the bureaucracy should change and improve its attitude. He said that IGP informed the speaker and deputy speaker about his busy schedule. Deputy Speaker said that police had been given unlimited powers but if their attitude didn't change then these powers could be removed by the parliament and government and no one should have any doubt about it. Despite the repeated warnings and instructions to the members, they ignored corona SOPs in the session as Shaukat Yousfazai and Kamran Bangash attended the session without wearing a mask.
COMMENTS
Comments are moderated and generally will be posted if they are on-topic and not abusive.
For more information, please see our Comments FAQ