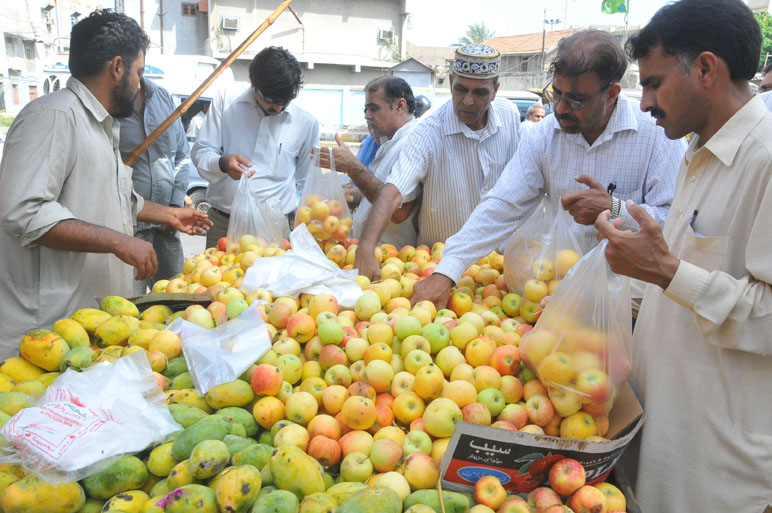 ---
LAHORE:
Hoarding and profiteering continue unabated ahead of the holy month of Ramazan, causing a shortage of several essential commodities including sugar and wheat flour.
Speaking to The Express Tribune on Tuesday, various citizens complained about the non-availability of sugar and wheat flour in their neighbourhoods and markets near them.
Muhammad Arslan, a resident of Eden Housing, pointed out that almost all shops in his area have no stock of re[1]fined sugar or wheat flour.
Shopkeepers are indicated they are not getting supplies from wholesalers, he added. Another citizen, Usman Ali, highlighted that prices of almost all essential commodities have been jacked up ahead of the holy month.
Most shopkeepers are selling high quality expensive whole wheat flour but have no stocks of controlled price flour owing to inconsistence supply in the market.
Read more: 'Raids to continue against hoarding'
A citizen, Mudassar Nawaz, complained that prices of all seasonal fruits have already surged ahead of Ramazan.
Banana which was selling between Rs50-60 a dozen in the city has already completed a century and vendors are warning consumer about a further increase in fruit rates in coming weeks
A convenience store owner, on condition of anonymity, told the Tribune that rates of almost all essential items have been increased twice or thrice during the last couple of weeks.
Shopkeepers are ready to make advance payments but still facing difficulty in getting stocks for sale. Though the government has fixed the refined sugar rate at Rs85 per kg it is still being sold at Rs95-96 per kg in wholesale markets.
The disparity in notification and the market rate is the cause of concern for both dealers and shopkeepers and it resulted in a scarcity of the commodity in the market.
Another shopkeeper, Zulfiqar Ali, said prices of all juices, beverages, syrups and milk have been increased twice during the past fortnight.
Reacting to complaints of a sugar shortage, Punjab Chief Minister Sardar Usman Buzdar has tasked all provincial ministers to check the availability and price of sweetener in their areas.
He directed them to monitor the availability of stocks in markets and keep departments concerned posted about the market situation in their areas on daily basis.