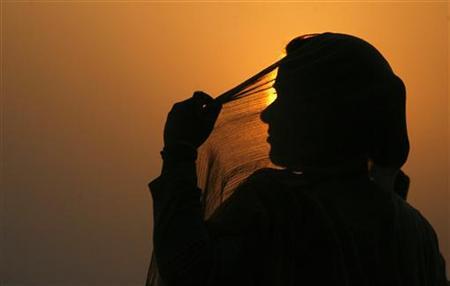 ---
A woman and a teenage boy were allegedly sexually assaulted at gunpoint in separate robbery bids in the city on Friday.
The suspected robbers, who came with the intention of stealing cash, gold and other valuable, also raped the victims after barging into their homes. Police registered cases and started searching for the alleged rapists. Police said a case had been registered in the Women's police station by the wife of Mujahid Ali and a resident of Mohalla Zafarabad Hilal, in she stated that the door of her house was open when three armed men entered her house.
The suspects including Usman locked the victim's children in a room and robbed Rs70,000 cash and three tolas of gold jewellery from the house. The suspects also allegedly sexually assaulted the woman at gunpoint. After the victim made noise, the suspects put their hands over her mouth and continued abusing the woman. Women's police station registered a case under Section 376 PPC. Separately, Muhammad Shehzad Iqbal, a resident of Nishatabad, Street No 1, Chenab Mill Street filed a case in Millat Town police station, in which he stated that he had gone to Shahkot with his wife to meet his daughter.
Read Coach driver assaults child after making him ice addict
Meanwhile, Shehzad's 13-year-old son was alone in the house when the suspect identified as Ahmed Ali, entered the house and was stealing money from the cupboard. Reportedly, the suspect Ahmed was also a neighbour of the victim. When the teenage boy woke up and witnessed the theft, the suspect Ahmed Ali allegedly sexually assaulted the teenage boy at gunpoint. The alleged rapist managed to flee from the crime scene. Police registered a case against the fugitive under Section 377 PPC and started raids to arrest him. Incidents of sexual violence during robbery were not uncommon across the province.
On January 27, a woman was reportedly murdered after sexual assault during a robbery in Shahdara area of the provincial metropolis. The unidentified suspected robbers barged into the house in Lalazar Colony and raped the woman. When the victim's family returned home, they found the woman in a pool of blood on a bed, while gold ornaments and cash were missing from the house. On January 6, three brothers reportedly raped a girl during a robbery on Sargodha Road, Sheikhupura. A wedding procession of the poor family was returning to their village Kakkar Gul from Khanqah Dogran area. The victim and her family were travelling in a rickshaw.
The three brothers stopped the rickshaw near Fatehpuri village and looted them. Meanwhile, two of the robbers took the girl under dense trees and raped her despite her family begging for mercy. The rapists also tied up seven members of the family, including the victim's father and elder sister. Reportedly, the robbery and rape incident took place over several hours.
(THE VICTIMS' IDENTITIES HAVE NOT BEEN DISCLOSED AS A MATTER OF POLICY)