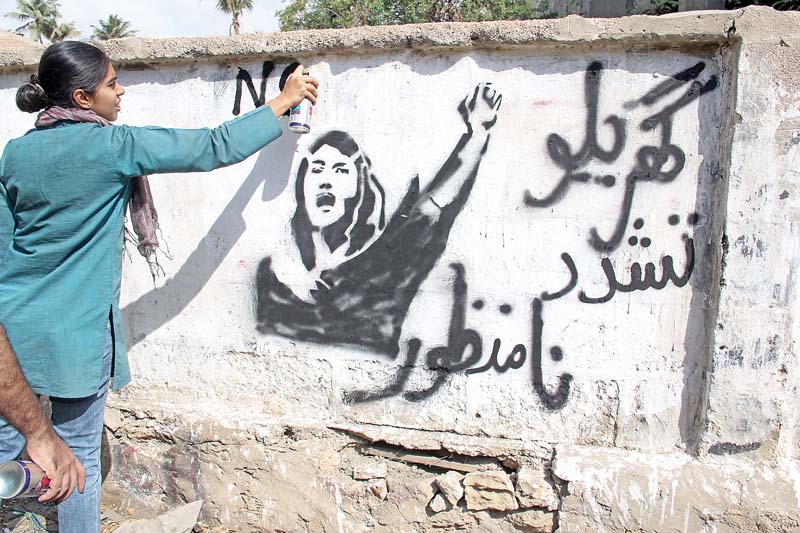 ---
PESHAWAR:
As Covid-19 engulfs the entire globe, claiming lives of hundreds of thousands of people from across the world besides denting the global economy, restrictions minimised damages but ended up increasing violence against women.
This revelation came to surface after departments meant to protect women and rescue them from domestic violence shared details.
The ratio of domestic violence is said to have increased by 45 per cent with majority reported from four Khyber Pakhtunkhwa (K-P) districts.
Provincial Social Welfare Department's statistics read that the ratio of physical, sexual and psychological violence besides burn and cyber harassment cases increased by 45 per cent at districts Nowshera, Mardan, Swabi and the provincial capital.
"It is encouraging that we receive reports but what we saw during Covid-19 lockdown made us conclude that the ratio of violence has increased and this was alarming for us," said Sahar Khan, Project Director Helpline Bolo of the provincial Social Welfare Department.
According to Khan, the provincial government was taking serious steps to end violence against women and had established Bolo Helpline, adding women benefited from the helpline and the department received calls from the victims.
Also read 47 incidents last year: Surge in violence against women
Khan stated that the department's immediate action on a call received by the helpline was to make sure police reached the spot and protected the victim. Besides, the cases were followed up by providing the victims legal aid.
"We have reported 349 cases of physical and sexual abuse, cyber harassment, burn and rape and the services needed were police protection, legal aid and counseling, shelter and medical aid," Khan informed this correspondent.
He also said that a mobile crisis unit was also in place which provided rescue services to the victims. In many cases, domestic issues were resolved through mediation and psychosocial counseling was done following an episode of violence against women in different districts.
Officials, however, stated that Bolo Helpline services were available at only six districts including Peshawar, Swabi, Mardan, Nowshera, Swat and Charsadda, adding if the ratio of violence has increased in four out of six districts, the services needed to be expanded.
"This is evident from the data and if you have an overwhelming response from four out of six – and that too developed – districts as compared to the southern districts, the government needs to expand the services," a senior official dealing with human rights issues said.
Published in The Express Tribune, March 9th, 2021.
COMMENTS
Comments are moderated and generally will be posted if they are on-topic and not abusive.
For more information, please see our Comments FAQ