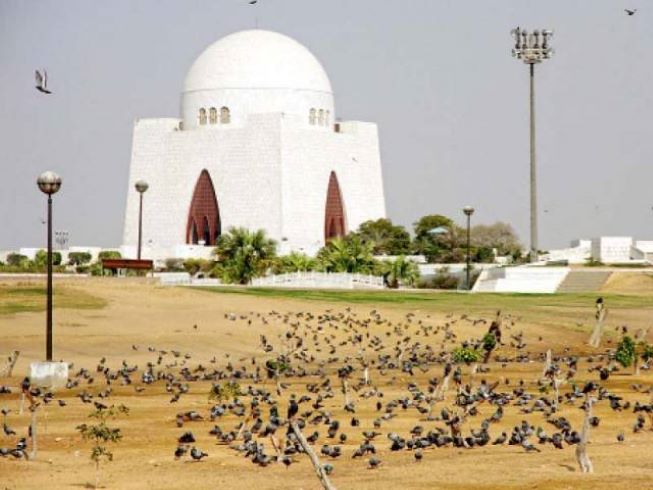 ---
KARACHI:
The charitable spirit of Karachi's people has made this coastal city of more than 20 million, one of the most welcoming places in the world despite its many faults. Many who journey to the concrete jungle firmly believe that the city lets no one starve. This is also true for the many species of birds found dotting the coastal skies.
In the past several years, feeding birds has become a popular form of charity in the city. With the passage of time several feeding stations have been set up in various areas and public spaces, where the birds are fed. The effort that goes into feeding the birds has become a source of livelihood for thousands of people who are associated with the running of these stations.
Although birdfeed shops can be found in almost every neighborhood, there are certain spots that have attained the status of landmarks like Kabootar Chowk - near the Sindh High Court building and Tughlaq House - Numaish Chowrangi, Mazar-e-Quaid, Baloch Colony Bridge and Ranchore Lane. These landmarks have become increasingly popular for this sort of charity activity.
Every morning, scores of people, some on their way to work, can be seen stopping at such spots across the city. They buy small sacks of grain and millet. They throw the seeds on the ground, and instantly the pigeons and sparrows perched on the nearby branches and overhead cables glide in and start pecking. To many, this is an act of kindness which they believe will bring blessings and good luck to them for the rest of their day. To the people selling birdfeed, it is a means of sustenance.
"My husband is unwell and I support my family by running an outlet on the footpath from dawn to dusk. I sell wheat, millet, mixed grains, gram, pulses and other bird seeds to hundreds of people who come here to feed the birds," said Zahida, who runs a bird feeder near Numaish Chowrangi which is perpetually busy at all hours of the day. A plate of bird feed can range from Rs10 to Rs100, depending on the type of grain one chooses. Most people who come here buy a plate worth from between Rs20 to Rs50 a plate," she added.
Abdul Rasheed is also involved in the bird feeding business. He said most bird feeder operators run their business out of small, quingi-like loading vehicles, which they park wherever there is business. "These vehicles are definitely not cheap, but they make it much easier to transport the grain sacks. They could also be used to set up temporary shops and the grain that is leftover by the end of the day can easily be taken back home. It saves us transport fare and the traffic police and the city administration don't bother us either, because they know we are working for a noble cause," said Rasheed.
However, grain-eaters like pigeons and sparrows aren't the only birds being fed out of charity in Karachi. Many birds of prey and scavengers like crows, kites, hawks and vultures are also beneficiaries of the city's charitable spirit.
Kamran Qureshi, a butcher who runs a shop near the Native Jetty area, said hundreds of customers visit his shop daily to buy remains like cow liver to feed the city's big birds. "Most people buy Rs100 to Rs200 worth of meat and turn to the Native Jetty Bridge, which is a popular spot for bird feeding. They swing the meat piece by piece from the bridge and crows and eagles glide in and catch it. There are also people on the bridge who've set up their own little stalls and sell flour balls, which people buy to feed fish. It's all for charity," he told The Express Tribune.
Published in The Express Tribune, March 2nd, 2021.
COMMENTS
Comments are moderated and generally will be posted if they are on-topic and not abusive.
For more information, please see our Comments FAQ