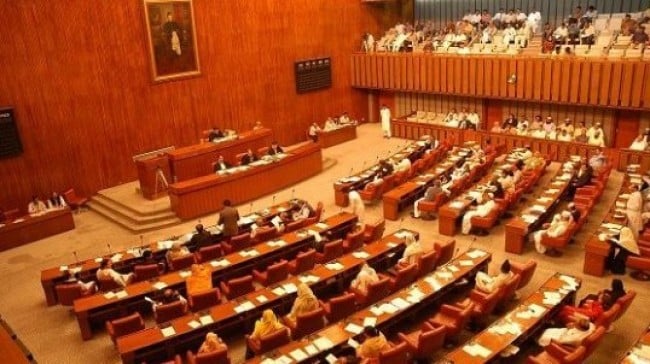 ---
KARACHI:
As tensions heighten with the Senate polls to be held on March 3 (tomorrow), a Pakistan Tehreek-e-Insaf member of Sindh Assembly has announced that he will not be voting for his party's candidates.
In a video message obtained by The Express Tribune, Karim Bux Gabol - who was elected from PS-100 Karachi East-II in the 2018 elections - claimed on Monday that his party has given Senate tickets to candidates in exchange for money, adding that the Constitution of Pakistan allowed him to vote for any candidate.
"I am a PTI worker and will remain with party, but I can't vote for its candidates in the Senate elections because the party has given the ticket to candidates in exchange of money," he said in the video.
Criticising his party for failing to deliver according to the people's expectations, he said that Sindh was being given 'step-motherly treatment' by the federal government.
The video message has appeared at a time when the Pakistan Peoples Party and the Pakistan Muslim League-Nawaz claim to be in touch with lawmakers belonging to the PTI.
They claim that many PTI parliamentarians are ready to vote for them.
Sources in the PPP told The Express Tribune that more MPAs belonging to the PTI and its coalition partners in the Centre, who hail from Sindh and Punjab would vote for candidates associated with the Pakistan Democratic Movement - an alliance of the opposition parties aiming to oust Prime Minister Imran Khan's government.
"The actual contest is between PDM's Yousaf Raza Gillani [of the PPP] and PTI's Dr Abdul Hafeez Shaikh on the Islamabad seat. We will surprise to everyone on March 3," PPP leader Syed Nasir Hussain Shah said in a statement today, adding that many PTI leaders and lawmakers were unhappy with the federal government performance and were ready to vote for candidates of the opposition parties.
'Three PTI MPAs missing'
Shortly after Gabol's video, PTI Karachi President and member of Sindh Assembly Khurram Sher Zaman said that three Pakistan Tehreek-e-Insaf (PTI) assembly members were missing since last evening. They are not in touch with us, their phones are switched off. When we contacted their family, we learnt they were not even in touch with their families.
He was accompanied by senior PTI leader Firdous Shamim Naqvi, Sindh Assembly parliamentary leader Bilal Ghaffar, Sindh Assembly members Jamal Siddiqui, Arsalan Taj, Adeel Ahmed, PTI leader Arsalan Faisal Mirza and Iram Butt.
Khurram Sherzaman further said that we have lodge complaints in all institutions including police. He accused the PPP government in Sindh of being responsible for their disappearances.
Rebuttal
Responding to Zaman's press conference, another video appeared of PTI MPA Shaharyar Khan Shar from Ghotki district. In his video he refuted Zaman's claims that three MPAs had been abducted.
"No one has kidnapped us. We are annoyed over PTI policies," Shar said adding that he had gotten 50,000 votes, but no one from PTI including Prime Minister Imran Khan had heeded to Sindh's issues.
"I repeatedly approached prime minister, governor and other to pay attention on our issues, but they turned blind eye and nominated the people on senate tickets without consulting us," he said adding that no one had kidnapped them and they would vote as per their conscience.
Reliable sources privy to the matter told The Express Tribune that PPP Chairperson Bilawal Bhutto Zadari has approached Syed Ali Nawaz Shah, MNA from Mirpurkhas, who won the NA-218 seat in 2018 election as an independent candidate defeating the PPP and PTI candidates.
Shah once a senior PPP stalwart had left the party over differences with the PPP leadership, contested independently and bagged the seat. Bilawal along with Gilani visited him in Islamabad and requested his vote. Shah assured the PPP leader of his vote.
Published in The Express Tribune, March 2nd, 2021.