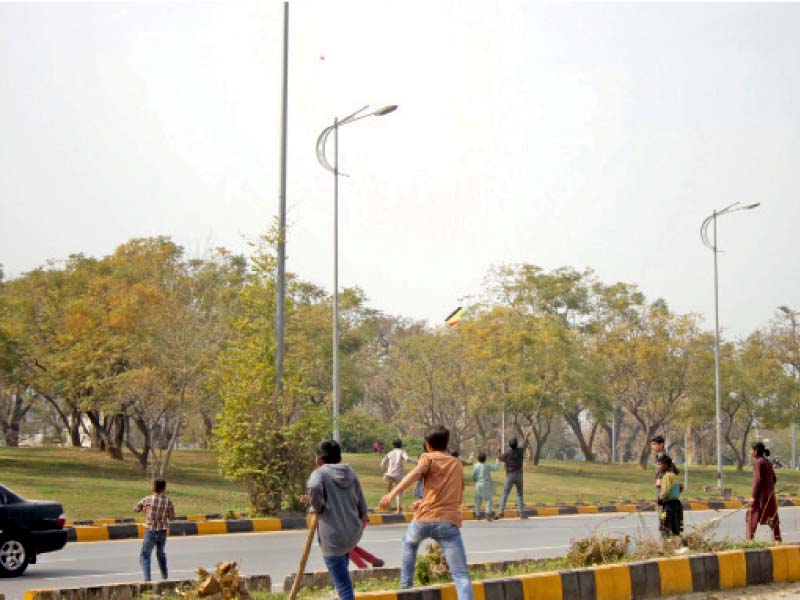 ---
RAWALPINDI:
The Rawalpindi police have come up with a unique solution to curb kite flying and aerial firing in the city by deciding not to issue character certificates to those involved in such activities.
City Police Officer (CPO) Ahsan Younas said on Wednesday that police will not issue character certificates to suspects nominated in both offences during the Basant season as there is a ban in place, adding that they will be penalised.
Notably, students require a police character certificate while applying for admissions at higher educational institutions as well as to apply for jobs in foreign countries.
Kite flyers undeterred Kite-flying enthusiasts in Rawalpindi have announced celebrating Basant night on Thursday (today) in defiance of the ban on the activity.
It should be noted that a Basant night was also celebrated last week in the garrison city despite the ban. The Kite Flying Association (KFA) had announced celebrating the spring festival separately in the Cantt and other areas of the city.
Enthusiasts in Mohanpura, Gawalmandi, Iqbal Road, Bhabra Bazaar, Dhoke Rata, Bagh Sardar, Pir Wadhai, Khayaban Sir Syed, Bani, Waris Khan, Dhoke Khabba, Chah Sultan, Satellite Town, Sadiqabad, New Kataria, Sixth Road, and others have completed preparations for the celebration. The activity would be performed on the roofs of houses and buildings. Reacting to the announcement, the Rawalpindi police have also formulated a comprehensive plan to book the violators.
The police officials said they would register cases against the kite-flyers while the suspects flying kites on the rooftops would be detected using drone cameras and binoculars.
They added that the police personnel would be deployed on Murree and Metro Bus track as well as on the roofs of more than 1,000 buildings in the city. The police have also issued instructions for motorcyclists to install protective wire on their bikes for protection against these metal and glass strings. Meanwhile, all three allied hospitals are on high alert in view of possible injuries, the spokesperson shared.
Published in The Express Tribune, February 25th, 2021.