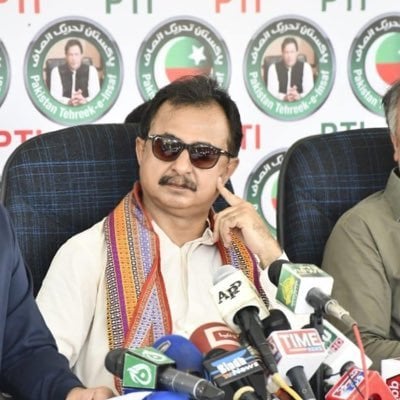 ---
KARACHI:
An anti-terrorism court sent on Saturday opposition leader in the Sindh Assembly Haleem Adil Sheikh and others accused of obstructing an anti-encroachment operation in Memon Goth on a judicial remand.
At the hearing, the counsel for the accused said Haleem had been arrested outside the court on the directives of a judicial magistrate and sent to jail.
The Sindh government later conspired with the police to include sections of the Anti-Terrorism Act (ATA) in the FIR registered against Haleem, the counsel alleged and moved the court to restrict the police from registering any more cases against his client.
The lawyer also informed the court that a snake was found in Haleem's cell while he was in detention in Special Investigation Unit's Saddar centre.
"Does the accused not know how to kill a snake?" the court enquired.
The counsel replied, "The snake was killed, but the actual snake is the Sindh government."
"But we are [only] speaking about the snake that was found in [Haleem's] lock-up," the court stated, directing the counsel to not allude to any other snakes.
Then, turning its attention to the investigation officer (IO), the court enquired where the previous IO of the case, who had arrested the accused, was.
The IO informed the court that the case was transferred to him after the inclusion of ATA sections in the case.
When the court inquired about claims of police officials being beaten and injured during the fiasco that followed the demolition drive in Malir, the IO maintained that two cops were injured.
The court directed the IO to point out where the names of the injured cops were mentioned in the case file.
Their names are mentioned in the FIR, the IO replied.
Following that, the counsel for the accused brought up the matter of the alleged disappearance of Pakistan Tehreek-e-Insaf leader Sameer Shaikh.
"He [was taken away] after he acquired protective bail from the court," the counsel said, requesting the court to seek CCTV footage of cameras installed outside the court.
The court, however, instructed the lawyer to acquire the footage on his own and then inform the court.
Published in The Express Tribune, February 21st, 2021.