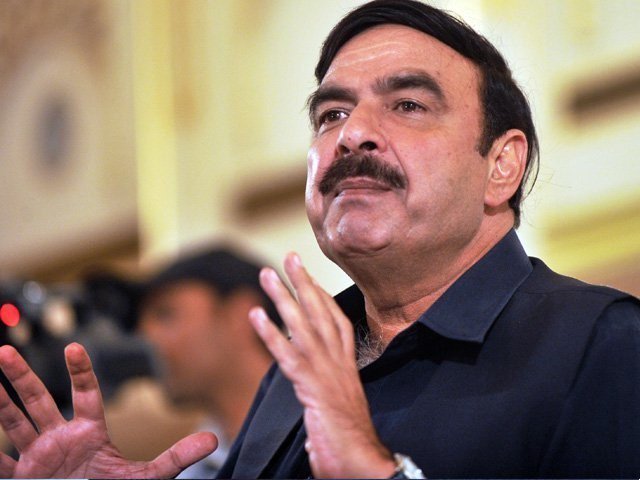 ---
ISLAMABAD:
Federal Minister for Interior Sheikh Rashid said on Wednesday that the opposition parties can launch a long march whenever they wish to, reiterating that the government will not create any hurdle in their way.
"The opposition has the right to come to the federal capital, there will be no obstacle in their way," the veteran politician said while talking to Express News in Islamabad. "That's what is called democracy."
When asked about Jamiat Ulma-e-islam (JUI-F) Maulana Fazl-ur-Rehman's consultations with Pakistan People's Party (PPP) co-chair Asif Ali Zardari and Pakistan Muslim-League (PML-N) supremo Nawaz Sharif, he said, "Pakistan Democratic Movement (PDM) has backtracked from their initial agenda and they do not have a clear strategy anymore."
Also read: Opposition withdraws NAB amendment bill in NA
"Even two members of the JUI-F are preparing to take part in the by-elections of the national and provincial assemblies, while the party prepares to participate in the Senate elections," he said, adding, "they plan to launch the long march in a month or a month-and-a-half, but they may do so now."
The interior minister further said that the PDM's recent protest in front of the Election Commission of Pakistan (ECP) was an ordinary protest.
Regarding the Broadsheet saga, he said that it will turn into an important case for the country in the coming days. "It is going to become the next Panama Leaks for the country."
Political parties, particularly PML-N, arch-rivals of the ruling Pakistan Tehreek-e-Insaf (PTI), have been demanding Prime Minister Imran Khan's resignation in view of the deteriorating economy and the the affairs of the state.
COMMENTS
Comments are moderated and generally will be posted if they are on-topic and not abusive.
For more information, please see our Comments FAQ