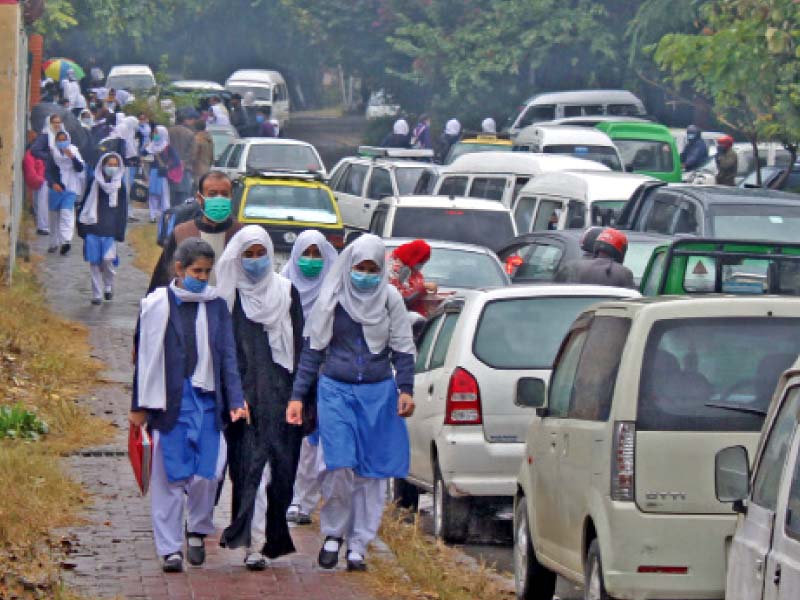 ---
LAHORE:
Seventh grader Kinza Amjad, a position holder, wants to continue her education online and coaxes her father every day to buy her necessary gadgets for the purpose.
Her father Mohammad Amjad owns a kiosk which barely helps him meet food expenses for the family of eight. "My daughter wants to continue education but there is nothing I can do. I had put her in a government school because it was free, now this new form of education is out of reach of poor," Mohammad Amjad lamented. "I do not own a single television or smart phone to help my kids learn. Online and cable education is for the rich and not poor ones like us," he complained.
This story resonates with almost every rural household in Punjab and many low income areas of cities too. In spite of several pleas from disadvantaged chambers, Federal Minister for Education Shafqat Mahmood had asserted that every person in the country owned a mobile phone and television in their homes. The government had launched television based schooling through Pakistan Television Network (PTV) as well as online education facility oblivious to the 7.5 million families in Punjab living below the poverty line who fail to afford two meals a day.
Out of the total 36 districts of Punjab, only seven districts can afford internet service charges to facilitate the government's online education system. On the other hand the broadband internet service offered by the Pakistan Telecommunication Company Limited (PTCL) is beyond the buying power of the general public as the average monthly income of a household in Pakistan is forecasted at dismal Rs15,096 per month during next year. The cheapest package the company offers bears a hefty price tag of Rs599 for 10GB internet and its student package is available at a unaffordable price of Rs1,299 for unlimited broadband-both packages can be used over a period of 30 days.
The charges are unaffordable even for the government owned educational institutes due to the ongoing financial crisis. Speaking to The Express Tribune, the managements of various institutes complained that even if the internet is available poor connectivity and low bandwidth disallows them to impart education seamlessly. An overview of the leftover districts reveals that 98% of the people in the remaining 29 districts are mainly employees out of which approximately 70% lost employment since the pandemic struck. In this backdrop, they cannot afford online education for their children; who even in the past had relied on government scholarships and traditional resources for studying. Official data reveals that there are 11.1 million students enrolled in Punjab schools who are dependent on free of cost education offered by the government.
Rana Liaqat Ali, the Central Leader of Punjab Teachers Union, said that government did provide free education facilities to the students but with the lockdown in place none of these can be utilized. "Now students are stuck in a limbo. The government should have provided free internet before they announced online education programmes for students," he pointed out. A number of government students including Meher-un-Nisa, Abu Bakar, Rameezah and Anwar said a majority of their classmates have working class parents who cannot afford smart phones for their kids. "The cheapest smart phone costs Rs6,500 which is almost half the salary of a blue collar worker or labourer. Then, the cost of internet is added and each kid needs one device to study. It is simply unaffordable for our parents!" Abu Bakar said sadly.
"I hope the government realises our adversity and offers subsidy on internet and devices for students like us." A technology expert recommended that the government should facilitate internet access through free hotspots in various areas of the province and reduce taxes on internet-enabled devices so that the country survives the technological leap introduced by the coronavirus pandemic.