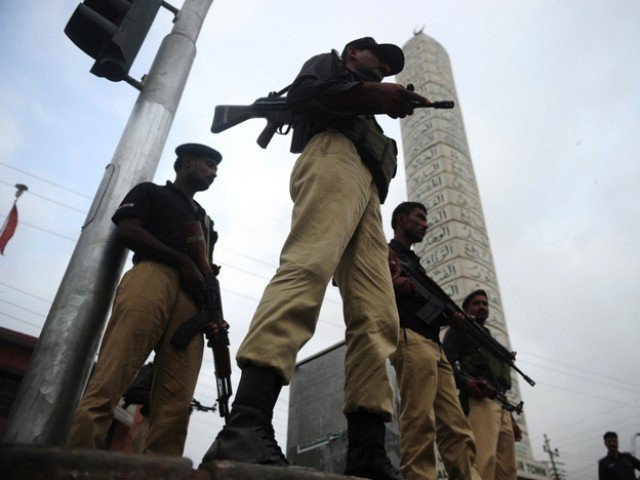 ---
LAHORE:
Dolphin Squad, a specialised wing developed for patrolling purposes and promotion of community policing by the spending of billions of rupees, has once against allegedly turned out to be a trigger-happy force.
Dolphin Squad police officials allegedly shot dead a shopkeeper in Liaquatabad. On the other hand, the deceased Jahangir was involved in an attempt to abduct a woman and when deterred opened firing at the police team.
SP Model Town Dost Muhammad said they had received a phone call at 15 Helpline at around 5:05 am by a woman who identified herself as Mumtaz Bibi. She had complained before the police that she was travelling in a rickshaw way back home four suspects started chasing her. They were drunk and carrying firearms.
A Dolphin Squad police responded immediately to the call. But, three suspects had fled by then. One remaining suspect on seeing police ran inside a street. The team followed him. He opened fire at the police team. The police team in self-defence retaliated in the same fashion.
The suspect suffered bullet injuries and died on the spot. Dost further continued that in the footage, the suspect could be seen carrying a handgun while lying on the ground after being hit by police bullets and turning around to shoot at the police.
Dost further said when police checked the identity and consulted their Crime Record Office, they found the suspect identified as Jahangir Shaukat, a history-sheeter. Many cases were registered against him.
On the other hand, family and relatives of the deceased Jahangir out-rightly rejected the police version and termed the death of Jahangir, a fake police encounter.
They in large numbers came on PECO Road, staged a protest and blocked the road for traffic.
Shaukat Ali, the father of the deceased Jahangir, claimed that his son was innocent. He ran a perfume shop, married and had three daughters.
He even never was involved in a dispute with any person. He said that when they reached the spot on the information of the incident, Dolphin Squad police officials removed their badges and fled from the scene.
Deceased cousin also termed it murder and drew an analogy between this case and encounters like Sahiwal tragedy. He said how long police will keep on killing their loved ones in fake encounters.
He said that there were evidence to ascertain that it was a fake police encounter.
When they reached the crime scene and police came to know that the persons arrived were related to the deceased, Dolphin Squad team hid their badges and ran from the scene.
Punjab Inspector General of Police Inam Ghani has taken notice of the incident and asked his concerned subordinate officers to submit a report.
Dolphin Squad police were developed to promote community policing. However, after a few months of the force of coming roads, the complaints of transgressing of authority and being trigger happy force.
Many cases of deaths have been reported in which Dolphin Squad rather than showing restraint opened unnecessary firing.
A few weeks back, a working lady was killed in an incident of cross-firing between suspected robbers and Dolphin Squad officials near Punjab University on Wahdat Road. Later, police claimed that they were chasing the suspected robbers after 15 helpline call. When being faced by the police team, they made the deceased victim hostage.
In another case a year back, a Dolphin Squad police had shot dead an elderly woman in the month of Ramadan in Naseerabad.
In another incident, a mentally challenged person was shot dead by a Dolphin Squad team in Gulshan-e-Ravi. The victim reportedly was carrying a knife and attacking passers-by.
In another incident, two years back, a teenage boy was shot dead due to firing of Dolphin Squad officials on Band Road. Dolphin Squad police had claimed that they were chasing the robbers.
Published in The Express Tribune, December 16th, 2020.
COMMENTS
Comments are moderated and generally will be posted if they are on-topic and not abusive.
For more information, please see our Comments FAQ