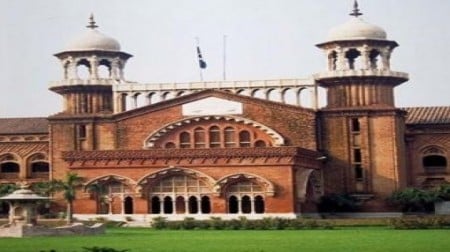 ---
ISLAMABAD:
The deadlock on appointment of new judges to the Lahore High Court (LHC) has apparently come to an end in the wake of an informal meeting between LHC Chief Justice Qasim Muhammad Khan and Chief Justice of Pakistan Gulzar Ahmed.
Sources revealed to The Express Tribune that after the informal meeting that was held on November 10, 12 nominees are being actively considered for appointment as judges to the LHC.
The nominees include Shan Gul [currently Punjab additional advocate general], Ali Zia Bajwa, Abid Chatta, Tanvir Sultan, Hassan Makhdoom, Raheel Kamran Sheikh, Safdar Saleem [currently a sessions judge], Iftikhar Mian, Intkhab Hussain Shah [from Rawalpindi], Tariq Nadeem [from Multan], Ahmed Raza [from Bahawalpur] and Amjad Rafique [currently Punjab additional prosecutor].
It is expected that the process for appointment of new LHC judges will be finalized by the end of this year. However, the sources said these nominations are yet to be sent to the Judicial Commission of Pakistan (JCP), the forum which approves appointment of judges to superior courts.
In the past two years, no judge has been appointed to the LHC despite the fact that 20 out of the 60 judicial positions at the country's biggest high court are lying vacant. The last time it was in October 2018 that a group of six judges was appointed to the high court.
A segment of lawyers alleges that three of the nominees have close association with three bigwigs of the bar while two nominees are close to some government functionaries.
Surprisingly, none of the protégés of the Supreme Court judges from Punjab figure in the proposed list. Earlier, names of a few lawyers – regarded close to the SC judges from Punjab – were circulated as future LHC judges.
Welcoming the proposed list, one section of lawyers said some "politically opinionated" lawyers have been shortlisted for the first time – a development, which, they said, should be appreciated.
JCP meeting for IHC appointments
A JCP meeting will be held on December 3 to consider the nominations for appointment to the Islamabad High Court (IHC). However, some sources said the government authorities have expressed serious reservations over the nomination of renowned lawyer Babar Sattar.
They said Babar Sattar has strong views on political issues and even the security establishment is unhappy over his nomination.
"Sattar may face resistance from a few JCP members, belonging to the judiciary. However, the superior bars have decided to strongly resist any move to drop his name," a source said. He said Minister for Law Dr Farogh Naseem – who is also a JCP member, is unlikely to endorse Sattar's name.
A representative of the Pakistan Bar Council (PBC) said the superior bars will soon react to the government's alleged conspiracy against Sattar. "His nomination is a test case for independence of the JCP," he said.
Senior lawyers expect that Sattar will be supported by majority members of the JCP especially Justice Maqbool Baqar, Justice Qazi Faez Isa, Justice (retd) Dost Muhammad Khan, PBC representative Akhtar Hussain and the Islamabad Bar Council representative.
Attorney General for Pakistan (AGP) Khalid Javed Khan – a member of the JCP – is also known for his independent opinion on legal matters. Earlier, IHC Chief Justice Athar Minallah had proposed names of Babar Sattar and Tariq Jahangiri.
Generally, the chief justice of every high court recommends names of proposed judges after consultation with the same high court's senior most judge. Justice Aamer Farooq is the senior most IHC judge and he is also a member of the JCP.
It is, however, not clear whether the IHC chief justice sent the name of Sattar after informal consultation with senior judges of the top court. Sattar was a member of Justice Qazi Faez Isa's legal team. Now he is also representing journalist Matiullah Jan in a contempt case.
COMMENTS
Comments are moderated and generally will be posted if they are on-topic and not abusive.
For more information, please see our Comments FAQ