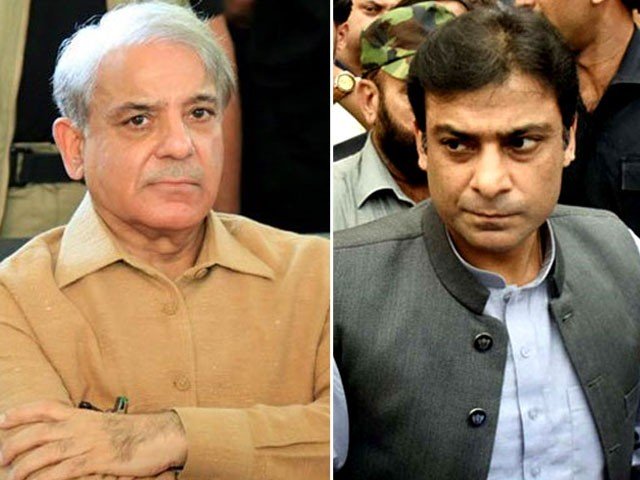 ---
ISLAMABAD:
Amid flared up political scene, the federal cabinet on Friday granted approval for including the names of Pakistan Muslim League-Nawaz (PML-N) president Shehbaz Sharif, his family members and several other accused standing trial in the National Accountability Bureau's (NAB) reference of money laundering involving a sum of over Rs7 billion on the Exit Control List (ECL).
Adviser to the Prime Minister on Accountability and Interior Shahzad Akbar while talking to The Express Tribune confirmed the development, saying Leader of the Opposition in the National Assembly Shehbaz Sharif's name was already on the ECL and names of other accused were placed on the list on NAB's request.
The PM's aide said that Shehbaz was earlier given one-time permission to go abroad by the Lahore High Court (LHC) when he accompanied PML-N supremo Nawaz Sharif to London in November 2019, who was diagnosed with an immune system disorder among other diseases.
On September 28, NAB arrested Shehbaz from the LHC premises after the court turned down his request to confirm interim bail in the asset beyond means and money laundering case.
Akbar said that some of the accused were in custody while some were abroad.
He noted that the anti-graft body's application was in process and a cabinet's sub-committee deliberated upon it in detail before circulating the summary among the cabinet members for their approval.
To a question that a few members were unaware about the summary, Akbar said that they might have mixed it up with other documents as every member gets the summary but decision is made through majority.
"Majority of the members have given approval and names of all the accused in the TT [telegraphic transfer] reference have been placed on ECL," he said while explaining that approval from one-third of the cabinet members is required for making a decision under the Rules of Business, 1973.
Interestingly, under Section 19 (procedure regarding circulation of cabinet cases) of the Rules, if a minister does not communicate his/her opinion in time, it is assumed that they accept the recommendations contained in the summary.
Undeterred by allegations that it was being used for political victimisation, the country's top anti-graft body had filed a fresh reference in an accountability court in Lahore accusing Shehbaz, his family and others of money laundering involving a sum of over Rs7 billion.
Apart from Shehbaz, NAB nominated his wife Nusrat Shehbaz, sons Hamza Shahbaz and Suleman Shahbaz, daughters Rabia Imran and Javeria Ali, his son-in-law Haroon Yousaf Aziz as benamidars and two employees of the chief minister's secretariat Nisar Ahmad and Ali Ahmad Khan and an employee of Ramzan Sugar Mills Limited, Syed Tahir Naqvi as their front persons.
The anti-corruption watchdog stated that accused Qasim Quyyum was an unregistered money changer who allegedly laundered the disproportionate funds to Shehbaz and his family members.
Accused Rashid Karamat, Masroor Anwar, Muhammad Usman, Fazal Dad Abbasi and Muhammad Shoaib Qamar were the employees of Sharif Group of companies, who allegedly committed the predicated offences of money laundering and actively aided and abetted Shehbaz and his family in the acquisition of assets disproportionate to their known sources of income.
Though NAB arrayed a total 16 persons as accused in the reference, it subsequently stated that "Shehbaz Sharif also married Tehmina Durrani Sharif, who is also a benamidar of the said accused."
The list of approvers included four persons – Yasir Mushtaq, Muhammad Mushtaq, Shahid Rafique and Aftab Mehmood.
Yasir Mushtaq and Muhammad Mushtaq are private persons, who allegedly in collusion with accused laundered the disproportionate funds under the garb of fake loans. Rafique and Mehmood are money changers based in Lahore and UK, respectively.
"During the years 2008 to 2018, a huge, multifold and disproportionate increase in the assets of the accused namely Mian Muhammad Shehbaz Sharif and his co-accused family members, to the tune of Rs6,122 million (present value of the assets Rs7,328 million) was witnessed when he was the chief minister of Punjab, without corresponding the known and proportionate sources of income," the reference read.
It further said that Shehbaz acquired huge valuable assets in his own name and in the name of his family members through "fake, unexplained, unjustified sources and other channels of money laundering, including bogus telegraphic transfers, foreign remittances, fake loans, unexplained gifts from his own employees, close relatives and private persons".
Addressing a news conference after the reference was filed; Akbar had said the Financial Monitoring Unit had detected 177 suspicious transactions involving Shehbaz's family, adding that the reference comprised 55 volumes and 25,000 pages of documentary evidence, including company records, bank statements and foreign remittances.
The NAB chairman had recommended trial of the accused for their alleged involvement in the commission of offences of corruption and corrupt practices as defined under section 9(a)(iv)(v) and (xii) read with Section 3 of the Anti-Money Laundering Act (AMLA), 2010, punishable under section 10 of the NAO 1999 read with Section 4 of AMLA and schedule thereto.
Meanwhile, NAB's spokesperson said that the matter was "not in his knowledge" when asked if the national graft buster had sought cabinet's approval for adding Shehbaz and his family members' name on ECL.
Later, he said, "we have not received any information".
COMMENTS
Comments are moderated and generally will be posted if they are on-topic and not abusive.
For more information, please see our Comments FAQ