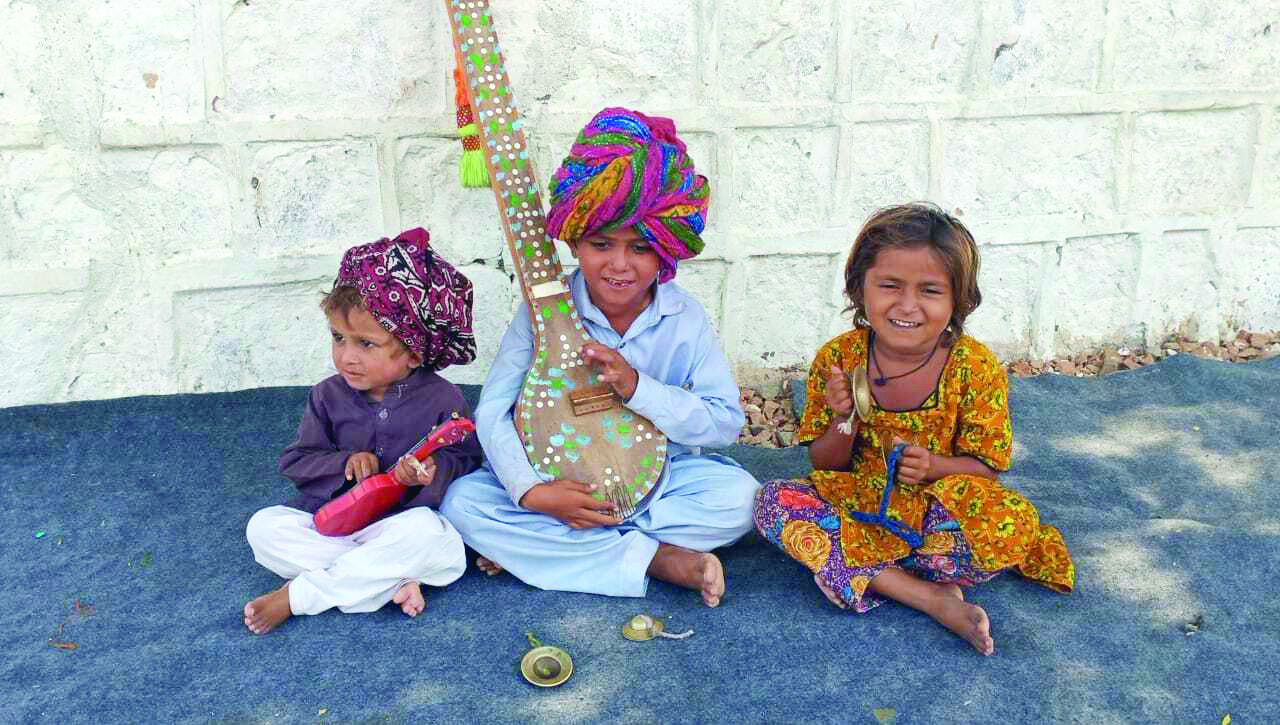 ---
KARACHI:
When one calls to mind the sandy vastness of a desert, it is often its crypt-quietness and sullen air which fill the mood. But where extensive barren landscapes can seem bleak and morose, the region of Tharparkar is unlike any other- rich in culture and brimming with potential, it is a place where songbirds sing the merriest of tunes.
Nine-year old Teerath, six-year old Tanvi and their four-year old sister Bhawna have become the desert's voice, drawing hundreds of tourists to come experience the unparalleled beauty of their land. Donning vibrant ajraks and Rajasthani turbans, the singing siblings commune every day at Bhudisar, an oasis not too far from the tourist hotspot of Nagarparkar. With them, they bring their musical instruments and spend several hours performing folk songs for the tourists visiting the region.
The trio, which has received basic training in music from their father, usually sings in a local language called Parkari, but couplets like Shah Abdul Latif's poetry are also part of their performance.
"Music courses through my veins like blood and I see the same passion brimming in my children. I teach them whatever I know, but it is their own flair which makes their music the most joyous to listen to," said Perbo, their father.
According to locals, the children have become increasingly popular with tourists, while their ability to gather and entertain a crowd had turned them into talented performers.
"These children have turned into a tourist attraction and although they do not really ask for money, visiting tourists often offer them cash as a form of encouragement for their talent," said Bhero Mal, a local school teacher. "Following the region's increased tourist inflow, some other groups of singing children have emerged in other areas like Gaddi Bhitt in Mithi city and Nagarparkar," he added.
Speaking to The Express Tribune, local anthropologist Khalid Jogi said that music is a cultural asset in the region of Tharparkar, which is credited for producing many prominent artists like Mai Bhagi, Mai Dhai, Sadiq Faqeer and others. "Although there are no singing academies or training facilities in the area, the skill is passed down from one generation to another, which is how ancient languages like Marwari and Parkari are kept alive in the region."
According to Jogi, children like the young trio, who are already interacting with tourists through their art, also have the potential to be great tourist guides in their respective areas.
Addressing his children's talent, Perbo said he was committed to helping them polish their skills and reach new horizons. "I recently taught Teerath how to play the Tanboro - a local musical instrument popular across the province. He now leads his younger brother and sister. But this is the extent of what I can offer and sadly, we don't have enough resources to support their passion," he lamented.
Published in The Express Tribune, Septe0mber 28th, 2020.