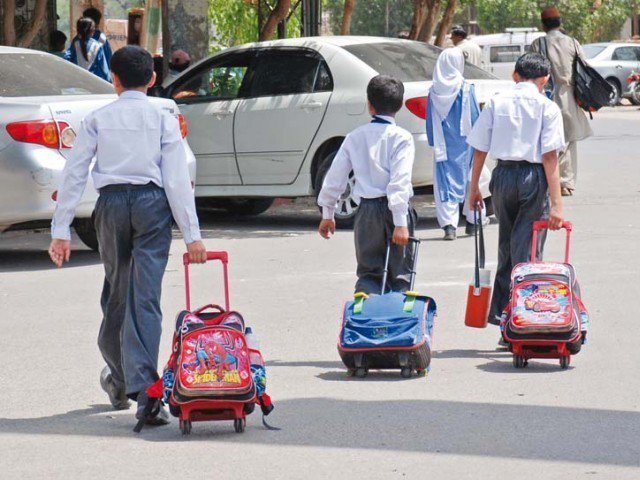 ---
Private schools announced tuition fee concessions for certain students on Saturday as well as allowing parents to pay their children's fees in installments, two days before on-campus classes for all grades are to commence across the province.
The announcement was made during a joint press conference by the All Private Schools Association Sindh, Pak Private Schools Association Sindh and All Sindh Private Schools and Colleges Association at the Karachi Press Club.
Elaborating on the announcement, the speakers said they had decided to charge no fees from students whose fathers had died due to the coronavirus and offer waivers to others to their fullest extent.
They said they regarded the standard operating procedures (SOPs) issued by the sub-committee of the education department steering committee in connection with the coronavirus pandemic and would follow the guidelines with complete responsibility.
Outlining the SOPs, the speakers said all teaching and non-teaching staff as well as students were to wear face masks in schools, their temperature would be checked and they would be asked to sanitise their hands before entering schools' premises. Besides, they said, everybody in schools was to observe social distancing and school buildings were to be disinfected regularly.
In case any staff or students fell sick, they would be sent back home, they added.
Citing the SOPs, they further said that parents had been instructed to send children with their own water bottles, lunch boxes, stationary items, face masks and hand sanitisers.
Saying that it was the schools' responsibility to inform parents about the SOPs, the speakers added that the staff had been receiving training for the effective implementation of SOPs.
They requested parents to cooperate with them in ensuring the implementation of SOPs.
Later, Sindh Education Minister Saeed Ghani headed a meeting with leaders of private schools' associations.
At the meeting, Ghani warned of strict action against educational institutes violating the SOPs and stressed that all private schools should ensure properly following the government's instructions after the commencement of on-campus classes on September 28.
He said that earlier, some schools had resumed in-class sessions for middle, primary and grades lower than those despite the government's orders prohibiting it. Hence, authorities had to take action against them, he added.
Ghani urged private schools' associations to cooperate with the authorities in ensuring the implementation of SOPs in educational institutes and take action against those violating government orders.
"Our main purpose is to keep children safe against Covid-19. Their health is as important as their education and we will not compromise on it," he asserted.
At this, the representatives of the associations informed the minister they had issued notifications for SOP implementation to their member institutes and all of them had been taking measures to apply the instructions. Besides, they added, a system for monitoring schools has been devised.
Published in The Express Tribune, September 27th, 2020.
COMMENTS
Comments are moderated and generally will be posted if they are on-topic and not abusive.
For more information, please see our Comments FAQ