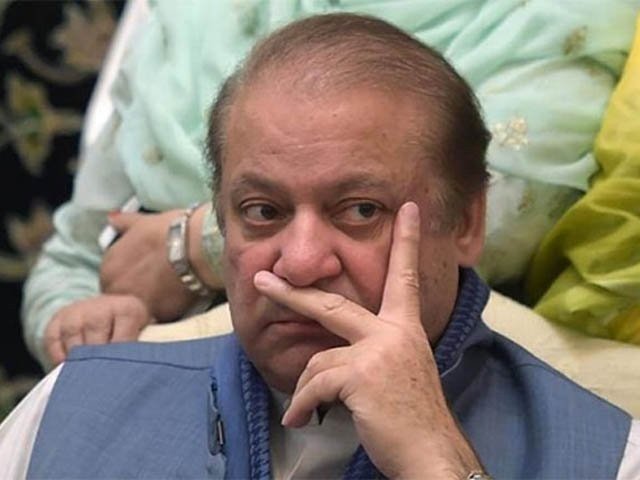 ---
ISLAMABAD:
A legal debate has started as to whether the media can air or publish a statement of a proclaimed offender.
Special Assistant to Prime Minister on Political Communication Shahbaz Gill on his twitter account announced that the government functionaries and regulatory authorities would proceed if Nawaz Sharif's speech was aired on TV channels because he had been declared as a proclaimed offender.
Gill also referred four-year-old Sindh High Court (SHC) judgment, which held that proclaimed offenders did not enjoy the freedom of movement, freedom of assembly, freedom of associations, freedom of trade, freedom of speech, etc.
"If they have been enjoying such rights then the purpose and object of the declaration of one as absconder/proclaimed offender never served its objective nor would so if allowed to continue on the hearts of the files only," the SHC judgment says.
However, former additional attorney general Waqar Rana believes that the Constitution is above all these laws. "Freedom of speech is an inalienable right of every citizen. Freedom of speech is protected by the Constitution," he said.
Rana adds that if the government or Pemra will try to curtail freedom of speech, it will be illegal. Referring to Article 19 of the Constitution, he says that the government can only regulate the freedom of speech in matters related to the security and integrity of the country.
Pakistan Bar Council (PBC) Vice Chairman Abid Saqi also believes that the freedom of speech is a constitutional right that cannot be curtailed through subordinate legislation. He terms such a move colonial tendency to suppress the voice of political leaders.
Another lawyer Umer Gilani says that the laws, governing what can and what cannot be aired by TV channels in Pakistan, is the Electronic Media (Programmes and Advertisements) Code of Conduct, 2015. Interestingly, none of the 24 articles of this code directly prohibits airing of the statements by a convict or by a proclaimed offender, Gilani notes.
He says that sub-articles (3) and (9) of Article 4 of the Code of Conduct, specifically allow the airing of comments about sub-judice proceedings but it must be ensured that comments are made in a manner which is fair and not calculated to "prejudice" the proceeding.
Therefore, Gilani says, the comments of a convict or even absconder may be aired; however, it should be ensured that this freedom is not used as a weapon to pressurise the judiciary of this country.
Gilani also notes that under Article 21 of the code, a broadcast which helps expose "injustice" and which helps people make a more informed decision on matters of public importance is not only permissible, it is given the status of "public interest programming".
He also says that Article 3(3) of the code prohibits the airing of statements of the members of proscribed organisations, ie terrorists. But no such prohibition can be found for other kinds of convicts.
Gilani, while commenting on the SHC judgment, says the SHC judgment came in a very specific and different context.
Petitioners were seeking a direction to Sindh Police to actively pursue and arrest murder suspects who had become proclaimed offenders. During the court proceedings, it surfaced that there were over 35,000 proclaimed offenders in Sindh alone. Therefore, the court issued directions to the police to actively pursue the offenders and confiscate their property under Section 88 CrPC. To apply the ratio of that judgment to the entirely different facts of the present case would not be fair."
He also mentions that none of the numerous, detailed directions in Para 43 of the SHC judgment deal with the issue of broadcasting.
Gilani further states that Section 88 CrPC stipulates that a proclaimed offender loses the right to property. "But there is no similar provision in our laws regarding deprivation of other fundamental rights such as the right to free speech," he adds.
Interestingly, one section of the government is also opposing this consideration about banning of Nawaz Sharif's speech.
A federal minister termed this move a "useless exercise" while a Pakistan Tehreek-e-Insaf leader (PTI) leader admits that the law does not permit ban on Nawaz Sharif's speech.
The PTI leader believes that if the government allowed telecast of Nawaz's speech then he will be exposed in the public that he is fit and left the country with fraud.
It may be recalled that in November 2014, the Islamabad anti-terrorism court (ATC) had declared PTI Chairman Imran Khan and Pakistan Awami Tehreek (PAT) chief Dr Tahirul Qadri 'proclaimed offenders' in a case related to attack on then senior superintendent of police (SSP) Asmatullah Junejo. However, despite the judicial order, Imran Khan moved freely and enjoyed every right.
COMMENTS
Comments are moderated and generally will be posted if they are on-topic and not abusive.
For more information, please see our Comments FAQ