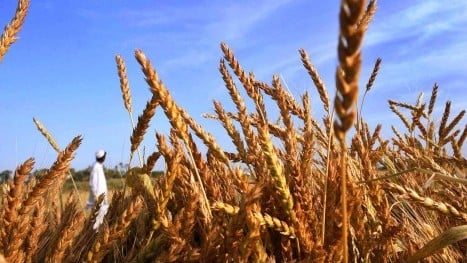 ---
LAHORE:
Facing a burgeoning flour crisis, Punjab has turned to the centre for assistance in form of 1.4 million tonnes of wheat. However, the provincial government has asked for a cheaper rate for the imported wheat, insisting it would be unable to ensure affordability otherwise.
According to source, Chief Minister Usman Buzdar wrote a letter to the prime minister in this regard earlier this week. In the letter, Buzdar urged the premier to provide 1.4 million tonnes of wheat from federal stock, but for a price of Rs1,400 per mann.
The centre is already supplying around 1.5 million tonnes of wheat to both Sindh and Khyber-Pakhtunkhwa. However, the government's of both provinces have agreed to pay Rs1,985 per mann for the 300,000 tonnes of wheat the government has imported at the official level.
In his letter, Buzdar argued that the province had in the past met not only its own demand but supplied wheat to other provinces as well. He added that despite being short on the commodity this year, Punjab had not imposed a ban on inter-provincial wheat sale. The chief minister also pointed out that his government had released 900,000 tonnes of government wheat to flour mills ahead of time in compliance with the federal government's instructions. These mitigating factors justified a lower wheat rate for Punjab, Buzdar argued.
Speaking to The Express Tribune, Punjab Senior Minister Abdul Aleem Khan said the province cannot bear billions of rupees in subsidies every month alone. "It has become very difficult for us to ensure flour is available at affordable prices under current circumstances," he said.
On the other hand, federal sources said the Trading Corporation of Pakistan (TCP) is expected float another tender for wheat import but warned that prices in the international market had risen sharply. According to the price formula listed in a recent tender, supplying imported wheat to Lahore would have cost Rs2,250 per mann. Keeping current international prices in mind, this cost could escalate to Rs2,900 per mann.
At present, the Punjab government is selling wheat to flour mills for Rs1,475 per mann. According to sources, the present circumstances have made Punjab finance officials reluctant to go for imported wheat. The province's business community, meanwhile, has proposed increasing the price of government wheat to Rs1,650 per mann.
Published in The Express Tribune, August 27th, 2020.
COMMENTS
Comments are moderated and generally will be posted if they are on-topic and not abusive.
For more information, please see our Comments FAQ