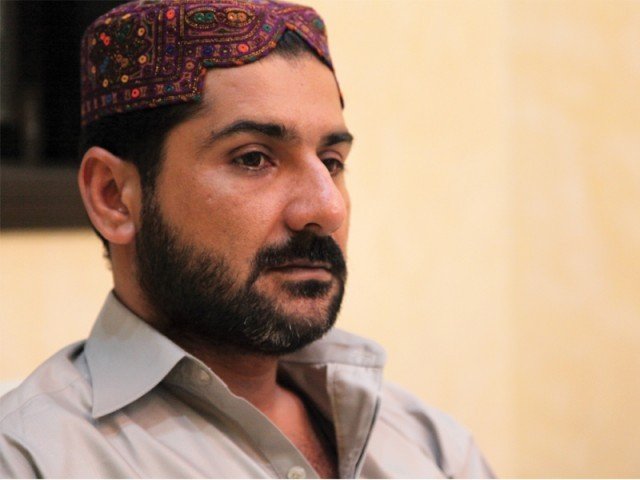 ---
KARACHI:
The report of the Sindh police's joint interrogation team (JIT) has revealed that Peoples Amn Committee chief Uzair Ali alias Sardar Uzair Baloch is directly or indirectly involved in the killings of 198 people, extortion, land grabbing, China cutting and narcotics trafficking.
The report says that the Lyari kingpin has confessed to these killings as well as the other crimes. It further says that Uzair also confessed to sharing sensitive information with the officials of Iranian intelligence agencies.
The JIT has recommended trying Uzair under Pakistan Army Act for his involvement in espionage activities which fall under the Official Secret Act 1923. It recommends to lodge a fresh FIR regarding possession of illegal weapons and explosives.
Before joining the PAC, he served 10 months in jail after being arrested from Chohar Jamali, Sujawal district in 2006. Uzair was challaned in seven cases and was out on bail but never attended any hearing due to which he was declared an absconder.
Uzair has been in the custody of law enforcement agencies since his arrest on April 28, 2016.
According to the JIT report, the PAC head also confessed to killing 11 people in Scrap Market, Shershah in 2010. He was also involved in the killing of former Lyari Town Nazim Malik Muhammad Khan, Arshad Pappu, Yasir Arfat and Shera Pathan.
In his confession, Uzair stated that he was involved in the murders of law enforcement agencies' personnel, including policemen and Rangers.
The JIT also revealed that at least 14 of his notorious gang members, including Faisal Pathan, Wasiullah Lakho, Shahid Rehman aka MCB, Ustad Tau, Shakeel Badshah Khan and Mulla Nisar, have fled Pakistan, fearing an LEA operation.
At least 54 cases were registered against the PAC chief at different police stations of the city while 16 others cases were registered against the PAC.
The most important part of the JIT report is that Uzair has a strong influence in the police department. The report says that the SHOs of different police stations were appointed on Uzair's recommendation.
Uzair confessed before the JIT that Muhammad Raisi was appointed as the Lyari administrator on his recommendation and Raisi used to give him Rs2 million per month as extortion money.
Several vehicles carrying copper, plastic and other material were snatched by Uzair's aides during 2011 and 2012. He also received millions of rupees from land grabbers, including Rs2 million per month from fisheries department of the Sindh government.
The JIT also shared details of Uzair's bank accounts in Pakistan and abroad where millions of Pakistani rupees and foreign currency were stashed. It also shared the details of possession of illegal weapons and their distribution among his aids.
Uzair, who was a transporter by profession, completed his intermediate before joining the gang. He was born on October 10, 1977, in Lyari's Singo Lane area.
Reports revealed that Uzair joined the infamous gang of Rehman Dacoit in order to avenge the murder of his father, Faiz Baloch aka Faizu Mama, by another gang leader Arshad Pappu.
Uzair also contested the local government elections in 2001 but lost.
The report further says that criminals of the PAC and the Muttahida Qaumi Movement (MQM) kidnapped and mercilessly killed each other's aides while gangwar continued unabated between Uzair, Pappu and Ghaffar Zikri, another notorious gangster of Lyari.
The JIT says that Pappu was brutally killed by Uzair's men, which triggered internal rifts. The police operation was carried out against the PAC in 2012, but Uzair fled abroad soon after the launch of the Karachi Operation in September 2013.
The JIT says that Uzair's Iranian birth certificate, national identity card and passport were all bogus. He also confessed that sensitive information was shared with the officials of the Iranian intelligence agencies.
"The accused under the cover of PAC made Lyari his own state and put the entire city in a state of fear where no one felt safe, especially in and around Lyari," it added.